French Tart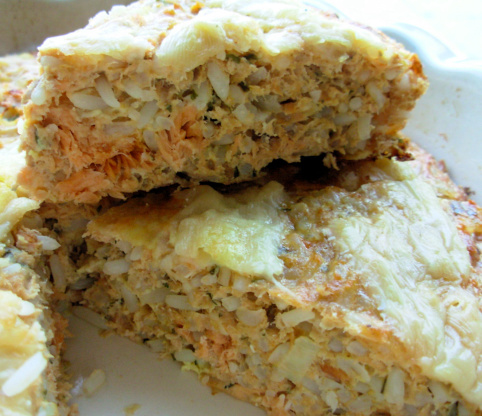 DH says "It's Good" (and it is). Good hot or cold. from Canadian Diabetes Association

My husband and I were pleasantly surprised by how much we liked this. I only have basmati rice in the house, so I'll use 1:1 water/rice quantity next time, 'cause the crust turned out a bit soggy. Also, next time, I might bake it five or so minutes before adding the filling. I tend to avoid celery, but I added it this time, 'cause it seemed important--and I just threw it and the onion into my food processor, which made it really easy. The salmon was home-canned with lemon and olive oil, so I did drain most of the oil and added some water. Also, I was a little nervous about the spices because they didn't seem to want to mix with the milk and egg--maybe I should've beaten them with the egg before I added the milk. I served this with Recipe #66543 as a side. Thanks, Derf!
Bring water and salt to a boil, add rice, bring to boil again, cover, reduce heat and simmer about 15 minutes, until all water is absorbed and rice is tender.
Grease a 9 inch pie plate with 1 teaspoon margarine.
Melt remaining margarine in a fry pan.
Sauté celery and onion about 4 minutes until tender.
Beat 1 egg with pepper and mix into rice.
Press rice onto bottom and sides of prepared pie plate to form crust.
Sprinkle half the cheese over rice.
Spread with half the celery mixture and salmon.
Top with remaining celery mixture and cheese.
Beat together remaining egg, milk, nutmeg, curry powder and cinnamon.
Pour over ingredients in pie plate.
Bake in 375 degree oven for 30 to 35 minutes until a tester inserted in the centre comes out clean.
Cool 5 minutes.
Cut into 6 wedges.
Diabetic- 1 wedge; 2 protein choices; 1 starchy choice; 1 fats and oils choice.