Oven Baked Chicken With Tasty Rub
Debbb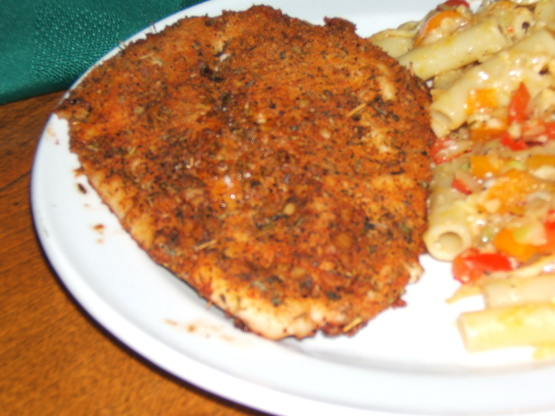 very easy and delicious meal

Top Review by Debbb
This recipe is SO SALTY - there needs to be an adjustment to the amount. I thought it sounded like an awful lot of salt, but against my better judgement, decided to follow the recipe exactly. I used boneless, skinless chicken so we had to peel off the top layer of meat to be able to eat it. The reason I gave the recipe 3 stars is because I believe that it would have been spectacular if the salt had been in proportion. The rub helps to seal in the juices & the rest of the flavours seemed really good together.
Preheat oven to 350 degrees.
take all ingredients except for olive oil and chicken and combine in small bowl. vary amount of chili powder depending on desired level of spice.
take chicken and lightly coat both sides with olive oil.
place chicken in oven-safe dish and rub both sides heavily with ingredients previously mixed (dont be shy!).
pour a little bit more olive oil into the bottom of the dish, enough so that it is lightly covered.
cook for roughly 35-45 minutes.