MsPia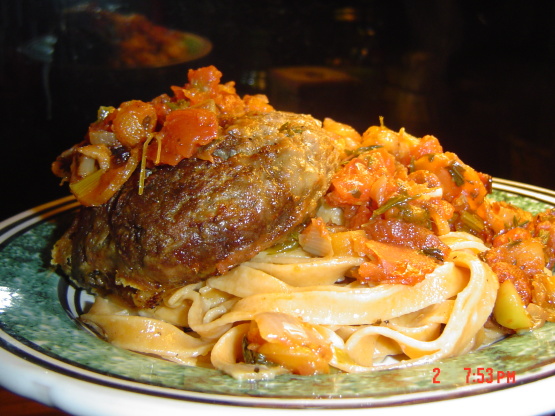 I have made this recipe with beef shanks and lamb shanks. Great both ways. I served it over egg noddles with butter and parley and also over green past (recipe 154037)
Preheat oven to 350 degrees F.
In a shallow dish combine flour, salt and pepper. Roll beef pieces in the flour mixture and shake off excess.
Heat 1/2 tablespoons of the oil in a Dutch oven or heavy over proof skillet over medium-high heat. In two batches, brown the beef on all sides, about 8 to 10 minutes per batch, using the remaining 1/2 tablespoons oil for the second batch.
Remove the beef to a bowl and set aside.
Reduce heat to medium; add onions, carrots and celery to the pan and cook, stirring, until softened, 3 to 5 minutes. Add garlic and cook until aromatic, about 30 seconds.
Stir in tomato sauce, wine basil thyme and bay leaf.
Add the reserved beef and returned to a simmer.
Cover and bake for 1 1/2 hours, or until the beef is tender, turning the meat once after 45 minutes.
Discard the bay leaf, taste and adjust seasoning.
Sprinkle with parsley and serve.