Veal Osso Buco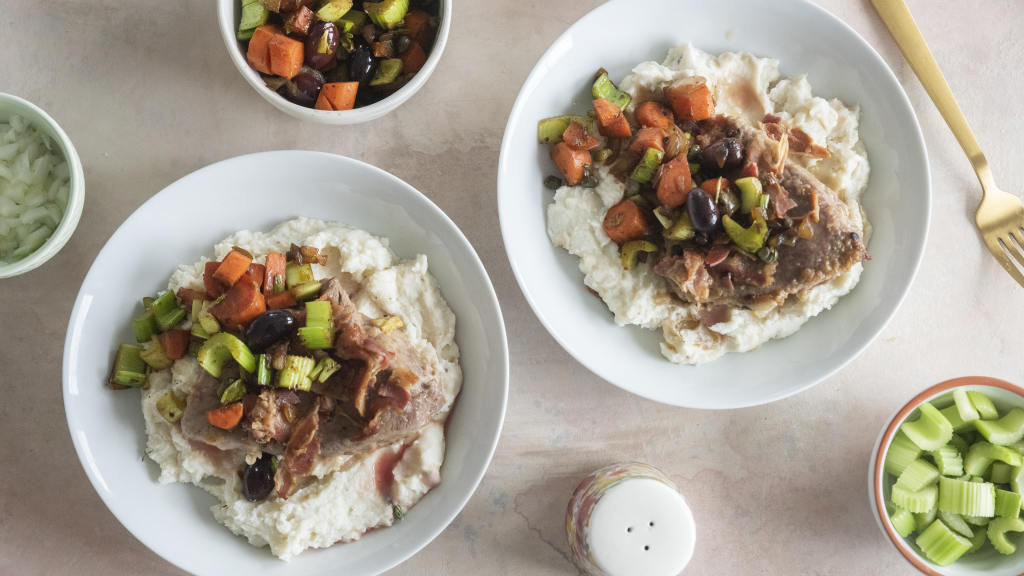 Ready In:

2hrs 20mins

Ingredients:

19
directions
Preheat oven to 325°.
Preheat a dutch cast iron oven over medium heat.
Season the veal shank liberally with salt and pepper.
Add the diced pancetta to the preheated pan, and cook, stirring occasionally.
When the pancetta is crispy and most of the fat has rendered (about 5 minutes of cooking), remove the pancetta to a plate covered with some paper towel.
If necessary, drain off all but two tablespoons of the fat from the pan add olive oil.
Dredge the veal shanks through some flour, shake off any excess and add the meat to the hot fat in the pan.
Turn the heat under the dutch oven to medium high and cook the meat on each side until well browned (about 5 minutes per side).
Remove the shanks to a plate.
Add the mirepoix to the dutch oven.
Cook the mirepoix (Carrots, Onion, & Celery), until the onions are translucent (about five minutes) and toss in the garlic, thyme, capers, olives and anchovies.
Continue cooking until the vegetables just begin to brown (about 10 minutes).
Add the pancetta & shanks back to the pan.
Pour in the wine, and then add enough stock or broth to come about half way up the side of the shanks.
Cover the pan and put it in the oven to cook until the meat is as tender.
The more braising time, the more tender the meat.
It should take at least 2 hours, at which point you'll have a fine dish.
More time is better, but make sure to add more wine if needed.
Optional: Remove meat and cover add the slurry to the liquid stir in completely and cook 5 more minutes stove top till thickened.
Top with Gremolata.