Veal Osso Buco (Yummy)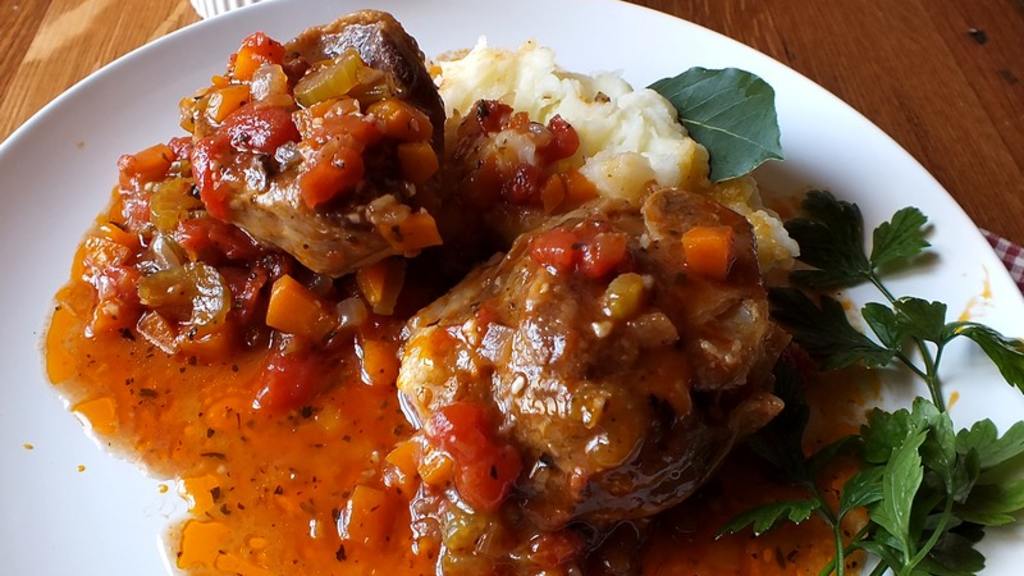 Ready In:

2hrs 55mins

Ingredients:

23
ingredients
2

tablespoons all-purpose flour, plus
3⁄4 teaspoon all-purpose flour
1 1⁄4 teaspoons salt
1⁄8 teaspoon ground black pepper

4

veal shanks

1

tablespoon butter, plus
2 1⁄4 teaspoons butter

1

tablespoon extra virgin olive oil, plus
2 1⁄4 teaspoons extra virgin olive oil
1⁄2 cup onion, chopped, plus

1

tablespoon onion, chopped
1⁄2 cup carrot, thinly sliced, plus

1

tablespoon carrot, thinly sliced
1⁄4 cup celery, chopped, plus

2

teaspoons celery, chopped

2

garlic cloves (crushed)

1

(8 ounce) can tomato sauce (I use Hunt's)
1⁄2 cup water, plus

1

tablespoon water
1⁄2 teaspoon dried basil
1⁄8 teaspoon dried thyme
1 3⁄4 teaspoons dried parsley

1

bay leaf
directions
In a shallow dish, stir together flour, salt, and black pepper.
Dredge meat in seasoned flour.
In a large skillet, melt butter with oil over medium heat.
Brown meat in skillet.
Remove meat from pan, and set aside.
Add onion, carrots, celery, and garlic to drippings in pan.
Cook and stir for about 5 minutes.
Stir in tomato sauce, water, basil, thyme, parsley, and bay leaf.
Return meat to pan.
Bring to a boil, and reduce heat to simmer.
Cover, and cook for 2 1/2 hours.
Serve the delicious sauce over meat, a bed of rice, or mashed potatoes.
Join The Conversation
Yes, this is a yummy recipe! I could not find veal, and used lamb shanks. I also used more veggies, and added finely chopped garlic when the dish was finished, so the flavour would not cook away. I did not simmer it on the stove (could not stay and watch it) but put it in a 140 deg C convection oven. (About 275 deg F). During the process on the stove I added a few swirls of honey, which counteracts the slight acidity of the tomato and adds flavour. One criticism: the ingredients as written are silly! The chef was sooo careful with his calculations for 2 people, that he went over the top. The recipe would appeal to more people if the tiiiny extra amounts he added (like 2 1/4 t olive oil) were left out. One caveat: watch the stew in the oven, as it will need more water or stock as it simmers. It must be covered, and I find it's very nice to have a pot with a glass lid so I can see right through. A delicious, comforting dish, heartily recommended -- just use your own judgment with those pernickety ingredient measures!! Thanks for a basically great recipe.