teresas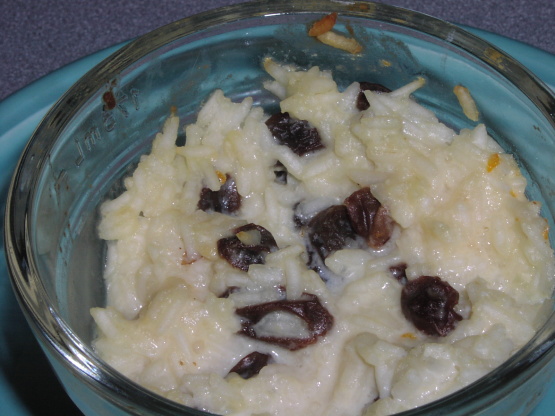 My mom made this for my 19th birthday (according to the Tamil calender, this year it's a day before my "real" birthday) and I was so touched and thrilled that she took the effort to make me something special that I would've posted this recipe even if it wasn't fabulous. Well, but you know what... it IS fabulous!!! The sweetness of this recipe is just right for me, but some of you may need to make this sweeter according to your personal tastes. My mom made this without the dates (which I don't like) and orange rind, but the original recipe includes them. Please note that prep. time does not include cooling time. This is from "Sweet Encounters" by Sanjeev Kapoor.

Really divine! I made this this evening for my dad to enjoy after dinner tonight. This makes about 2 servings and NOT 4-6! I omitted the dates and orange rind totally as I don't like either. I used 2 1/2 tbsps. of honey, a little more than 1/4 tsp. of essence, 2 tbsps. less than 1/2 a cup of orange juice, 1/3 cup Basmati rice, 1/2 cup raisins and 2 cups of low-fat milk. All throughout I had the wrong picture in my mind that once baked this would have become golden brown and have a crust like appearance. When I baked it in the oven(which I'd pre-heated to 160C) for 10 minutes, I failed to see the crust like pic which I'd had in my mind, and I baked it for another 10 minutes and thereafter for another 10 ! So, in total, I baked it for 35 minutes! No wonder my house is smelling so orangey and mmmmm, lovely!:) I also loved the taste of raisins in this, loved biting the bloated raisin:) A tip I'd like to share with everyone is when you add the rice to the boiling milk(step 2), if you are short on time and want it to cook faster, partially cover your saucepan(I do this everytime I cook rice). It really works! Next time, I'll be adding a few strands of saffron in step 1, i.e., while boiling the milk, for auntenticity(really Indian). Another thing, I did grease my ovenproof dish with margarine before putting in the mixture into it for baking. I enjoyed this warm and I think it's better served that way, but, to each his own! HAPPY BIRTHDAY, once again! You have a real awesome mum, do give her a big hug from me!!!
1⁄2 cup raisins, soaked in water for 15 minutes

2

cups whole milk or 2 cups skim milk
1⁄3 cup medium grain rice, washed and soaked in sufficient water for 30 minutes
1 1⁄2 tablespoons honey
1⁄4 teaspoon vanilla

1

teaspoon orange rind, grated (optional)

6 -8

pitted dates, coarsely chopped (optional)
1⁄2 cup fresh orange juice
Squeeze out excess water from the raisins and keep aside.
Boil milk in a non-stick saucepan.
Drain and add rice to the boiling milk, reduce heat to low and cook, stirring continuously until the rice is soft and the milk is completely absorbed.
Remove from heat and cool to room temperature.
Combine cooked rice with honey, raisins, vanilla, grated orange rind and chopped dates (if desired), and fresh orange juice.
Pour into a medium ceramic or glass ovenproof dish.
Bake the pudding in a preheated oven at 160 degrees Celsius (320 degrees Fahrenheit) for 15 minutes.
Serve warm or chilled.