Old Fashioned Slow Cooker Rice Pudding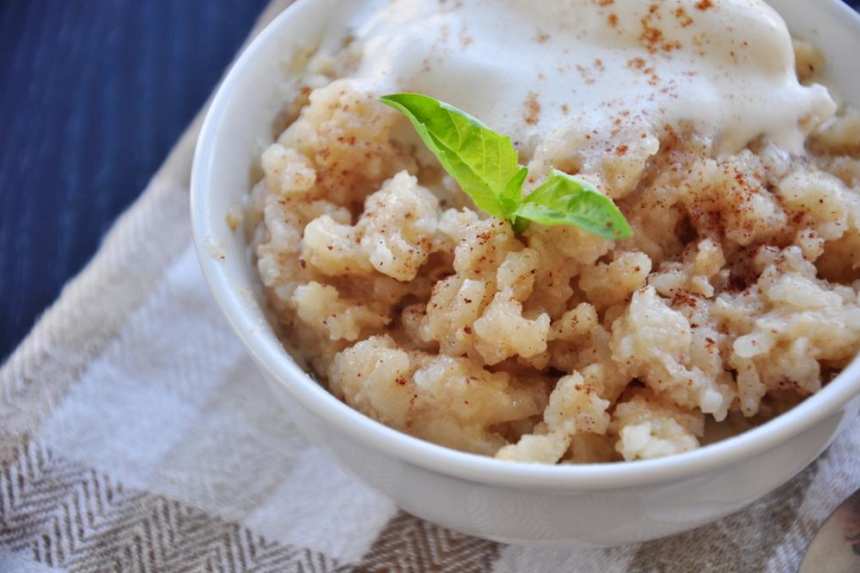 photo by SharonChen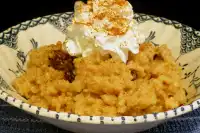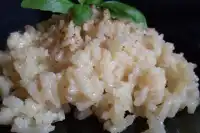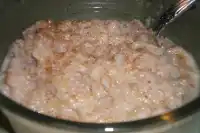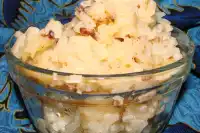 Ready In:

3hrs 5mins

Ingredients:

7
directions
In a colander, rinse rice thoroughly under cold water.
Put in lightly greased slow cooker. I use a round, 3.5 to 4 qt cooker.
Add remaining ingredients, except for butter & whipped cream.
Stir to combine.
Pour butter over rice mixture.
Cover and cook on HIGH for 2 1/2 to 3 hours, until rice has absorbed the liquid.
When ready to serve, spoon into dessert bowls and top with sweetened whipped cream.
Reviews
I made this recipe countless times over the last year as I was very ill and it was one of the only things I could eat. This is definitely a keeper for our family. Over this time I have tweaked it a little to suit myself so here goes: 1. I leave out the butter completely. I felt I could do without the added fat and cholesterol. It makes no difference to the taste or texture of this wonderful pudding. 2. I usually turn the slow cooker off while the pudding is still runny, but the rice is cooked. Makes it less thick and gives it a "creamed rice" texture! 3. Goes very well with any bottled fruits like apple, berries, nectarines, peaches, apricots etc. 4. I add a few cardamom pods - scrummy! 5. An alternate version I make is substituting the 3/4 cup granulated sugar for 1/2 cup dark brown sugar and a tablespoon of golden syrup (treacle would work well too if you aren't fortunate enough to have golden cane syrup in your country!) 6. If you don't like this pudding this sweet, just cut down the sugar to 1/2 cup..........yummy! Hmmm......I wonder how it would go with Chocolate milk instead of regular milk..........watch this space.......:)

 

Easy to make and delicious! I used 1/4 cup sugar and 1/4 cup Twin sugar, added a cinnamon stick (in addition to the ground cinnamon), vanilla, and 2 cardamom pods, I also only used 2 tablespoons of butter and served without the whipped cream. Next time I will watch over the crock pot more closely though. I left and came home after about 3 hours and it was bubbling over so next time I will either cook lower or stay home and keep an eye on it.

 

This is one fantastic rice pudding! As did the others, I loved the ease with which this can be prepared. Rice pudding is one of my family's favorites and with this convenient recipe I'll be making it a lot more. I used all of the sugar, and 2 1/2 cups whole milk and 1/2 cup of light cream. I cooked mine for 3 hours in the crockpot and let it cool down a little before serving. It was quite thick, so I made it a second time using reviewer Heath J's tip -- I cooked the pudding until it was still a little liquidy, and it thickened up quite nicely as it cooled and came out with a texture that was firm but not too thick. Thanks for posting this easy and delicious recipe!

 
Tweaks
I have made this several times over the years and really have tweaked the recipe. My hubby is diabetic and has high blood pressure, so, I eliminate the sugar and salt and added some diced up fresh pears or peaches. I also increased the rice to a full cup. Fat free half and half works too. When ready to serve, drizzle on some honey and there is the sugar for you. I love this recipe!

 

Almost perfect to me. I did as a lot of reviewers suggested and cut down sugar to 1/2 cup, but I used dark brown sugar instead. Added a 1/2 teaspoon vanilla extract, and left the butter out. Cooked 2 hours and 15 minutes, then turned off the rest of the time. A bit dry, but added a 1/2 pint heavy cream and it was perfect. Not too sweet, creamy, and oh so filling. Next time think I will add raisins and probably use a bit of coconut milk as well. Highly recommend this as dessert and bonus as a breakfast too!

 

I made this recipe countless times over the last year as I was very ill and it was one of the only things I could eat. This is definitely a keeper for our family. Over this time I have tweaked it a little to suit myself so here goes: 1. I leave out the butter completely. I felt I could do without the added fat and cholesterol. It makes no difference to the taste or texture of this wonderful pudding. 2. I usually turn the slow cooker off while the pudding is still runny, but the rice is cooked. Makes it less thick and gives it a "creamed rice" texture! 3. Goes very well with any bottled fruits like apple, berries, nectarines, peaches, apricots etc. 4. I add a few cardamom pods - scrummy! 5. An alternate version I make is substituting the 3/4 cup granulated sugar for 1/2 cup dark brown sugar and a tablespoon of golden syrup (treacle would work well too if you aren't fortunate enough to have golden cane syrup in your country!) 6. If you don't like this pudding this sweet, just cut down the sugar to 1/2 cup..........yummy! Hmmm......I wonder how it would go with Chocolate milk instead of regular milk..........watch this space.......:)