Olive Garden Tuscan Garlic Chicken
karenury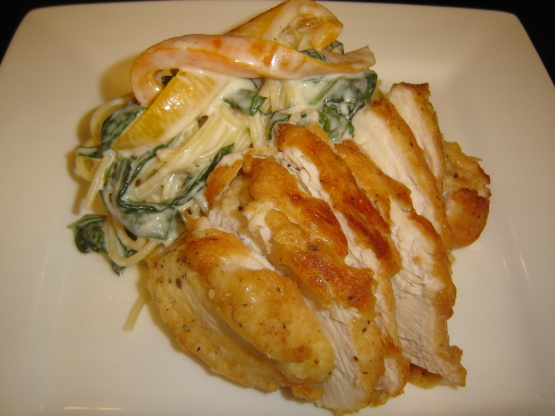 Posted in response to a request; obtained in an online search. Sounds so delicious that I'm going to have to try it SOON! The OLIVE GARDEN menu describes the dish as: Tuscan Garlic Chicken is a flavorful blend of herb-seasoned chicken breasts sautéed with oven-roasted garlic, sweet roasted red peppers and spinach, served in a white wine and garlic cream sauce and tossed with curly fettuccine. (Prep & cooking times are guess-timates!)

Two things the recipe is missing that Olive Garden doesn't tell you to put in it are roasted whole garlic cloves and chopped sun-dried tomatoes. These with both add a couple more layers of flavor and make it that much more enjoyable.
Preparing the chicken: Combine 1 1/2 cups flour, salt, black pepper and Italian herb seasoning in a shallow dish.
Dredge chicken in the mixture, shaking off any excess.
Saute the chicken in batches, in a large, nonstick, ovenproof skillet -- with enough oil to coat -- over medium-high heat for about two to three minutes on each side, or until golden brown and crisp.
When finished, transfer the skillet to a preheated oven at 350 degrees F. Cook for approximately 15 minutes or until cooked through and the internal temperature reaches 165 degrees F.
Preparing the pasta: Cook pasta al dente (or according to package instructions).
Drain and set aside until needed.
Preparing the sauce: While the pasta is cooking, heat 1/2 to 1 fluid ounce of oil in a sauce pan. Add the garlic and the red pepper and cook for approximately one minute.
Slowly add remaining one tablespoon of flour and stir to combine.
Next, add the white wine and bring to a boil for about one minute. Add the spinach and the cream and bring to a boil. The sauce is done cooking when the spinach becomes wilted. Complete by stirring in the parmesan cheese.
Preparing Tuscan Garlic Chicken entree: Partly coat the pasta with the sauce, transfer to a large bowl (or individual dishes) and then top with the chicken, the remaining sauce and the extra parmesan cheese. Serve and enjoy.