TooTiny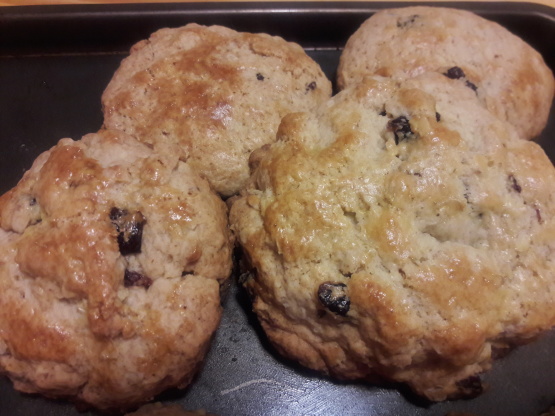 Another good on the go breakfast, or enjoy with tea. Note: These are very good adding a tablespoon of orange zest along with cranberries.

This recipe is delicious and very easy to make! I accidentally used Quick Oats, and they came out fine. These scones look and taste very professional. Great recipe! Thanks for sharing this, Barb.
Preheat oven to 375 degrees.
Combine first 5 ingredients in a food processor or bowl.
Add butter and process until it resembles coarse meal.
Add oats, currants and buttermilk and stir mixture until dough just sticks together.
(DO NOT over mix) Transfer to a floured work surface and knead about 5 times.
Roll out dough to 1 inch thickness.
(in circle) cut into pie shaped pieces or cut with cookie cutter.
Arrange on a slightly greased baking sheet.
Gently brush scones with egg and bake 20 minutes or until golden.
Serve with Apple Butter.
Enjoy.