PaulaG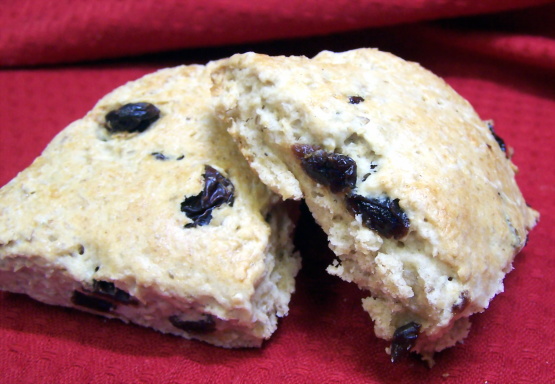 Appropriate for Diabetics. Uses a food processor, great way to hide the nutrious stuff from the kids! Can be made up to 4 hours ahead before baking.
Top Review by PaulaG
Everyone enjoyed these for brunch today. It is a great technique when you mix in the food processor. I used old fashioned oats and half white and half pastry flour. The oat flour makes nice soft dough with delicate results. Glad that I choose these for the photo swap.
Preheat oven to 375°F.
Grind 1 cup oats in a food processor.
Add flour, sugar, baking powder, and baking soda and "pulse" until blended.
Add margarine and pulse until mixture resembles a coarse meal.
Transfer to a large bowl and add raisins and remaining oats.
Make a well in the center and gradually add buttermilk.
Knead dough on lightly floured surface, about 10 turns.
Divide into 3 pieces and pat to 3/4 inch thickness. Cut each into quarters (12 scones).
Brush with skim milk and bake in preheated oven for about 28 minutes. (May wait up to 4 hours before baking).