Wafflie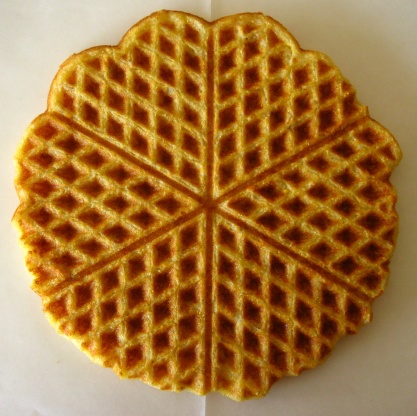 These waffles are delicious, crispy and sweet. They are also nutritious. This recipe came from the Sunset Complete Vegetarian Cook Book. They are especially good with sliced fruit on top. The recipe can be altered without a problem, it is still good if the ratios are not exact.

We have been looking for this long lost recipe and found it here! I used our old Belgian Waffle maker but the waffles did not fall out no matter what I tried. So I bought a Nesco WM-1300 for under $40 and we just made a batch of wonderful waffles like we used to enjoy. I sprayed oil for every other waffle and they pretty much fall out. Cooking 3 minutes with the waffle maker set halfway between medium and dark. Almost 2/3 cup of batter and hold the lid down for about 10 seconds so the batter spreads out evenly. We use 2-3 eggs worth of egg white instead of whole eggs and either canola oil or butter - can't tell the difference. We use low fat yogurt with fresh strawberries or yogurt that has berry flavor already. Yum Yum Yummie!!!!
Mix dry ingredients in a large bowl.
Beat egg and add to buttermilk.
Add egg and buttermilk to dry ingredients and mix to incorporate.
Add cooled melted butter and mix to incorporate.
Do not overmix.
Heat waffle iron, (to grease or not to grease- I usually don't) for each waffle pour about 2/3 cup of batter or 1/2 an iron full.
Bake until well crisped.