jasm1525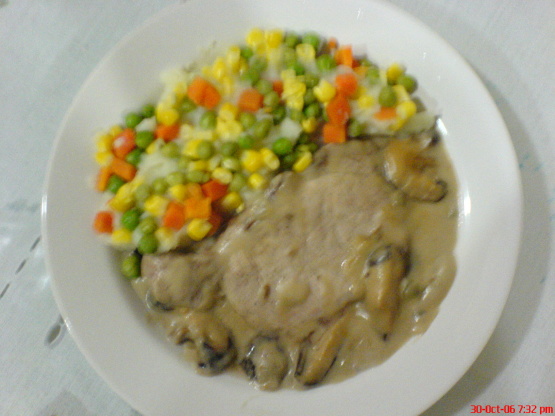 Quick and easy to prepare. The sauce is great with mashed potatoes too.

These were the first moist, tender pork chops I've ever eaten! I increased the amount cooked (I'm not sure by how much, but my DBF got a small pork roast and sliced it), used two cans of mushroom soup, sliced some fresh baby Bella mushrooms, and skipped on the veggies. We both loved it. I'll keep this one forever!
4

pork chops
salt and pepper

1

pinch garlic salt

1

onion, chopped
1⁄2 lb dried Chinese mushrooms, soaked & sliced
10 1⁄2 ounces condensed cream of mushroom soup

1

cup mixed vegetables, boiled
Season pork chops with salt, pepper, and garlic salt to taste.
In a large skillet, brown the chops over medium-high heat. Add the onion and mushrooms, and saute for one minute.
Pour cream of mushroom soup over chops. Cover skillet, and reduce temperature to medium-low. Simmer 20 to 30 minutes, or until chops are cooked through.
Serve with rice and mixed vegetables.