KGCOOK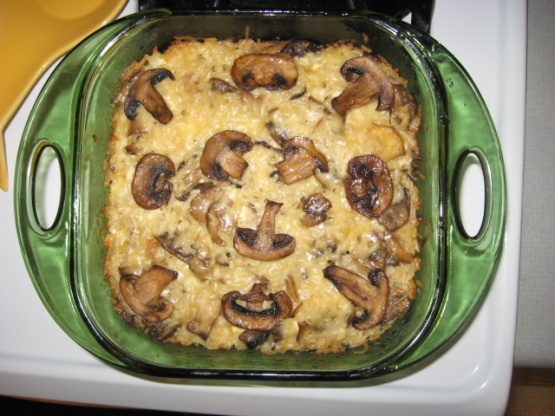 Fresh Mushrooms, Rice (White, Brown or wild) OR Barley whichever you like baked into a great little side dish, with cottage cheese and sour cream for the creaminess.

Top Review by KGCOOK
I made this recipe tonight as a side dish. I wish I could give it a better score but I can't. I found it to be on the bland side. I will try this recipe again but I will be adding seasonings to the dish and not just over the top. I think I may add more sour cream and cottage cheese to juice it up a bit more too. I followed the directions to the T as well as baking times. Next time I try this recipe I will do another review and maybe I will be able to give it a good rating.
Preheat oven to 350F degrees.
Spread butter or olive oil evenly into a 9x13 baking pan.
In a large skillet over medium-high heat saute the mushrooms in olive oil adding a bit of salt to the mix. Saute so until the mushrooms have released their liquid and have browned a bit.
Add the onions and cook for another 4 or 5 minutes or until they are translucent.
Add the garlic and cook for another minute. Remove from heat.
Add the cooked rice to the skillet and stir until well combined.
In a medium bowl whisk together the eggs, cottage cheese, sour cream, and salt.
Combine the rice mixture and cottage cheese mixture in a large bowl, stir until well combined and then turn out into your prepared baking dish. Sprinkle with 2/3 of the Parmesan cheese, cover with foil and bake for 30 minutes.
Remove foil and bake for another 20 or 30 minutes until and golden brown along the edges. Sprinkle with chopped Thyme or Tarragon, and the remaining Parmesan.