encee1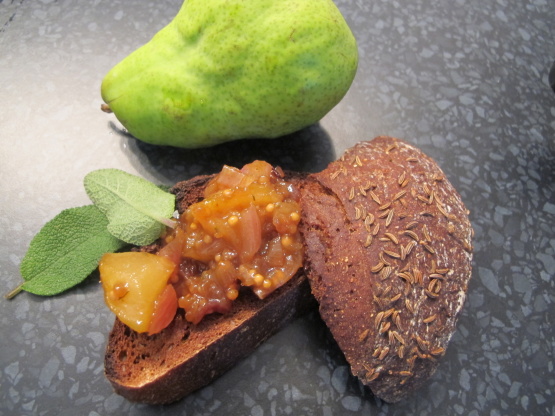 Mostarda is a condiment in Italy - but it's NOT just a mustard. Rather, it is preserved fruit that does have mustard and mustard seed included as a flavouring. Mostarda is delicious with bollilto misto, as it is such a delicious and flavourful accompaniment to the plain, boiled beef. Also exceptional used with cold cuts. Try salami, dabs of mostarda and good, crusty bread.

Top Review by encee1
this is easy to make and delicious.<br/>i did not have figs to add, but it was still tasty. try it on tasted german pumpernickel no knead bread as i did (see photo) - the recipe is on this site.<br/>will make again, good time is pre winter when pears are plentiful.
Place figs, pear, apricots, cherries, and apples into a mixing bowl and stir to mix.
In a saucepan, heat wine, sugar and honey together until boiling. Boil for 3-4 minutes, or until slightly reduced and syrupy. Remove from heat and stir in mustard and seeds.
Pour over fruit and allow to steep 24 hours. Jar and refrigerate.