Mom's Cheesy Broccoli Rice Casserole
Chef*Lee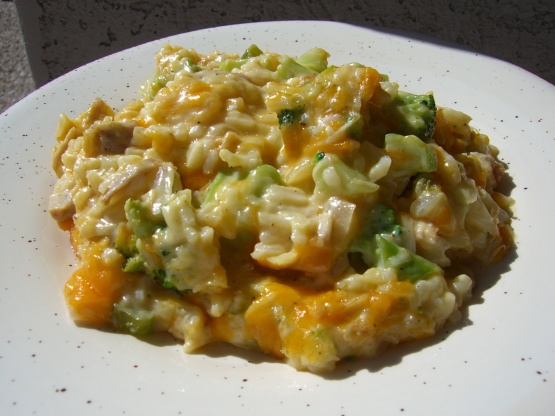 Recipe by KPD
This is my favorite broccoli rice casserole...maybe it's because it's so darn creamy and cheesy I don't even notice the broccoli! :) Enjoy!
This is recipe is soooo darn delish. The first time I made this, I received too many compliments to count. Of course since I have such a large family, I've had to double as well as tweak the recipe somewhat, staying true to it for the most part...yum!!
10

ounces frozen chopped broccoli, microwaved about 6 minutes to thaw

2

cups cooked rice
2 1⁄2 cups sharp cheddar cheese, shredded and divided

2

(10 1/2 ounce) cans cream of chicken soup

1

(5 ounce) can Carnation Evaporated Milk

1

onion, diced
1⁄2 cup celery, diced

1

(5 ounce) can premium chunk chicken (I sometimes use 2 or the large can when I'm treating this as a one-dish meal)
1⁄2 teaspoon salt
1⁄2 teaspoon pepper

2

tablespoons butter
Saute onions and celery in butter until soft. Add chicken, salt, and pepper. Saute a minute or so to marry flavors.
In a large bowl, combine soups, milk, rice, broccoli, onion/chicken mixture. Fold in 2 cups cheese.
Pour into a greased 2 quart casserole dish. Top with remaining 1/2 cup cheese (I sometimes use more -- it's terrible, I know! ;).
Bake at 350 degrees for 30-40 minutes uncovered.