Molasses Oatmeal Chocolate Chip Muffins
Shasha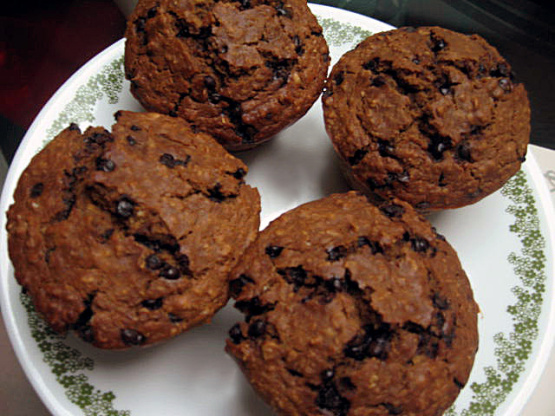 These are a great sweet muffin without being cloyingly sweet. My kids love muffins and we eat them a lot. Most of the time I put fruits or veggies in them, but this is the one I created for a sweet treat. The molasses gives it a nice darker color.

I just made these muffins for my family and OH MY GOODNESS, these are absolutely delicious! I ground my oatmeal in the blender before adding to the recipe for the texture and used 3 whole eggs as suggested in another review as I didn't want to waste the yolks and had nothing to use them in right away. Other than that, I followed the recipe exactly. This is such an easy recipe for children to help make. This is definitely a keeper! Thank you! **A tip I have found helpful with the muffin liners, if you are having trouble with muffins sticking, I spray the papers with cooking spray before adding the mixture and the papers pull right off.
Mix all the dry ingredients together except the chocolate chips.
Add the wet ingredients and mix just until blended.
Now add the chocolate chips and mix.
Fill muffin tins sprayed with non-stick spray (or use muffin liners) 2/3 of the way full.
Bake at 400°F for about 20 minutes or until slightly brown and a toothpick inserted into a muffin comes out clean.