Pam-I-Am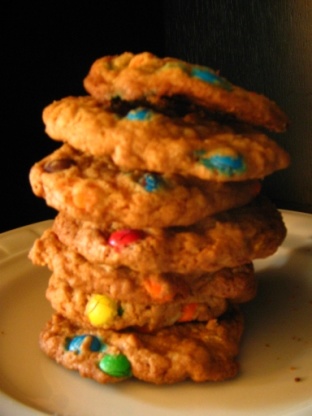 I found this recipe on the internet to make cookies with a bag of mini M&M's. I liked that it has oatmeal in it which make them a bit more chewy than your average cookie. You can also substitude chocolate chips if you don't have M&M's.

These were really good! I didn't make them exactly as instructed just because it was a last minute choice and I only had one small tube of M&M minis so I used those and 2 chopped up Hershey w/ almond bars! (left over stocking candy :) I halved the recipe, they were a little crunchy on the outside and chewy in the middle. Perfect, thanks!
In a large bowl, mix together sugars, shortening, margarine, vanilla and eggs with an electric mixer.
In a seperate bowl, combine flour, oatmeal, salt, baking powder and soda.
Add dry ingredients to mixing bowl a cup at a time until it is mixed together completely.
Open bag of M&M baking bits and pour out 1/3 cup to reserve for later. Add the rest of the chips and fold into batter.
Chill cookie dough for 1 hour.
Later, preheat oven to 350 degrees. On ungreased cookie sheets, or using parchment paper on cookie sheets, drop dough by spoonfuls with room for spreading.
Take 2 or 3 of the reserve M&M's and place on top of each cookie. This way, some clearly show after the cookie bakes.
Bake in 350 oven for 10-12 minutes or until lightly brown.
Remove cookies from sheet and place on cooling rack.