Prep 15 mins
Cook 15 mins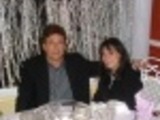 One year, I hosted a Mexican-themed Christmas Eve. I covered the table with a festive serape, lit the luminarios, hung the pinatas, and ended with this lovely hot drink. Feliz Navidad!!
Directions
Combine hot milk, chocolate, sugar, coffee and salt in a blender. Cover, blend at high speed, until chocolate is melted and sugar dissolves.
In a large saucepan, combine blended ingredients with remaining ingredients. Heat, stirring constantly. Blend small amounts of hot mixture just before serving.
Most Helpful
My Mexican friend use to make this for me on cold days. Hers didn't have coffee, which was great in this drink, and was a bit thicker due to cornstarch. I 'll make this again.

Yummy coffee! I enjoyed the coffee flavor and I skipped the blender too. I used almond milk. Thanks Jackie! Made for Kittenca's mini cookathon.

Great drink for a chilly morning. I used Splenda and skipped the blender, since I grated my chocolate, which melts easily. This reminds me of a Mexican cocoa a Latina friend used to bring to me, that was is a block, and had cinnamon and sugar. And I like the addition of the coffee!