KateL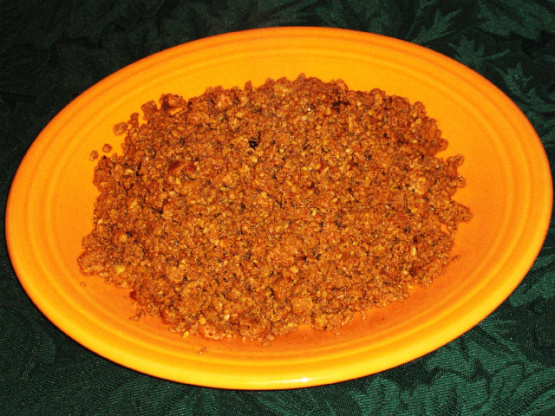 Double or triple the amounts and freeze to use in recipes, adjust the chili flakes to suit heat level, my family likes extreme heat so I use 1 tablespoon, I have made this in the past using pork shoulder and also pork butt --- plan ahead the mixture needs to chill for at least 8 hours or up to 24 hours to blend the flavors together.

I love chorizo and have never thought to make it myself, so when I stumbled across this recipe I was excited to give it a go! I'm on a big time diet so I opted to adjust this to make a healthier version by using ground turkey breast and olive oil to eliminate the saturated fat of the pork. The results were amazing. The spice blend is spot on! I can only imagine how wonderful it is with pork, but for now I'm happy with the ground turkey version. One note to those that may also want to use ground turkey, I found that I needed to add a little more olive oil than the amount of oil called for in the recipe to account for the lack of fat from the lean turkey. My version did not turn out dry at all I'm happy to report.
Combine pork and all remaining ingredients in a food processor; pulse until coarsly blended.
Place the mixture in a ziploc plastic bag; seal and marinate in the refrigerator for 8 hours or overnight.
The next morning/day, place the mixture in a skillet over med-high heat until hot; add in the pork mixture; cook 5 minutes, or until done, stirring to crumble.