Nimz1466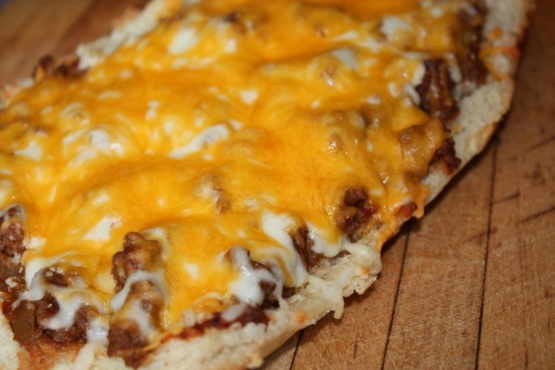 I got this recipe from a co-worker, who brought the dish to one of our potlucks. It's actually a loaf of French bread with a filling.

What a great idea for a quick lunch or even a dinner. The combination of flavors went so well together. I used a can of Rotel tomato sauce that has green chilies in it and a fairly hot salsa so we had lots of zip in this which we loved. I did toast my bread for about 5 minutes before adding the meat mixture hoping to cut back on soggy which it did. I'll be making this one again. Thanks LainieBug. Made for PAC Fall 2012
Heat oven to 350 degrees.
Cut French bread in half lengthwise.
Hollow out both halves of loaf, leaving about a 1-inch shell.
Brown hamburger and onion in skillet.
Drain off fat.
Add salt, pepper, salsa, green chilies and tomato sauce to burger/onion mixture.
Heat through until bubbly.
Spoon evenly into both loaf halves.
Top with both grated cheeses.
Place on cookie sheet and heat in oven until cheese melts (a few minutes).
Slice loaf halves cross-wise into 2-inch wide sections.
Note: Depending on the size of the French bread, number of servings will vary.
Also, I'm guessing at the prep/cook times as I have not fixed this recipe yet.