Memphis Pork Ribs (Steven Raichlen)
loof751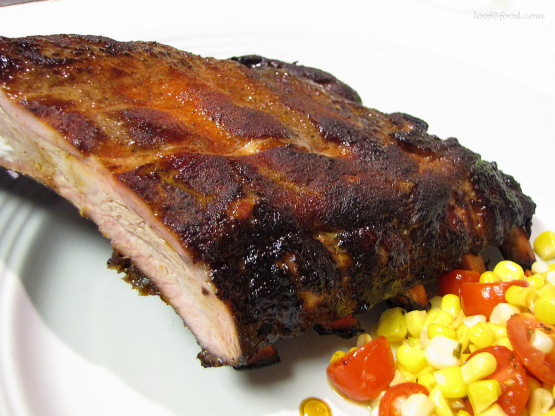 Another variation for pork ribs. This recipe is for 2 racks (5lbs) and includes a dry rub and an optional mopping sauce. Serve it with your favorite BBQ sauce. This recipe works equally well in the oven with the ribs on a roasting rack. Raichlen also says to marinate in the dry rub 4 hours to overnight, but I don't find this necessary.

These ribs are terrific! The sauce is not thick like a bbq sauce, so the ribs are not gooey with it after cooking, but it adds a nice flavor and moistness to the rub, which is perfect. Cooked these in the smoker for about 3 hours and ended up with a delicious meal - thanks for sharing the recipe!
Set up your grill for indirect heating at 350 degrees F; place a drip pan in the middle of your coals.
Remove the silver skin from the ribs with your hands.
Combine all the rub ingredients and rub 2/3 of it on both sides of ribs.
Place ribs on the grill and close the cover.
Combine all the ingredients for the mopping sauce.
After 30 minutes of cooking, mop the ribs with the sauce; repeat mopping every 20 minutes thereafter.
Continue to cook the ribs until they are tender and the meat has shrunk a bit from the bones, about 1 1/2 hours.
Remove ribs from the grill, once they are done, and place on a cutting board; mop ribs one last time and sprinkle with remaining dry rub.
Cut into serving size pieces as desired.