Ashley's Crock Pot Pork Ribs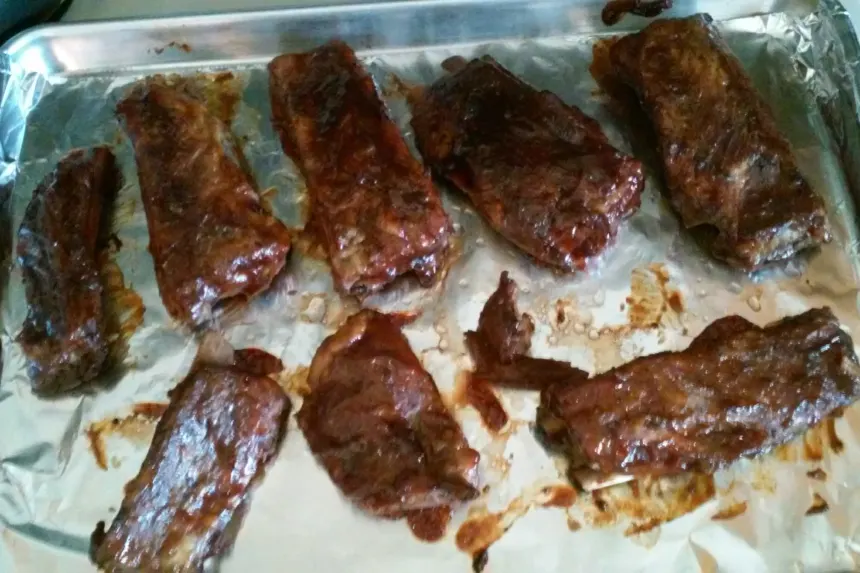 photo by Blaine P.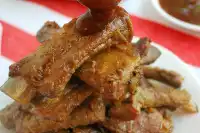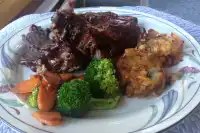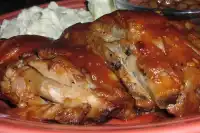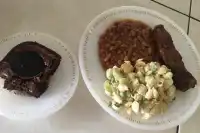 Ready In:

8hrs 15mins

Ingredients:

9
directions
Cut ribs into individual pieces.
Mix soy sauce, worcestershire sauce and olive oil together. Pour over ribs and mix to make sure each rib is coated.
Season to taste with salt, pepper, garlic and onion powder. Be careful with the salt since soy sauce is naturally salty.
Cook in crock pot on low 8-10 hours or high 4-6 hours.
Optional: Remove from crock pot (store liquid as stock if you like, otherwise discard) and coat ribs with your favorite sauce. Bake in 350 degree oven for about 20 minutes. I have found the ribs taste great either way.
Questions & Replies

Reviews
I just made this and it was fantastic! So easy to make. I had less than a pound of ribs and I had no problem adjusting the recipe. All the ingredients you can easily find in the kitchen. After slow cooking, I used the liquid to make a barbecue sauce and it was delicious too (I just added some ketchup, brown sugar, vinegar and hot sauce then simmered it). This is a keeper! Thank you so much for posting!

 

What a great recipe! Thank you for sharing this with us Ashley. My family loved the ribs. I used only 1 tsp of salt and cooked them for 6 1/2 hours on my crock pot's medium setting. When they were done, I removed the ribs and spooned out 1 cup of the gravy into a 2 cup measuring cup and added 1 cup of my favorite BBQ sauce. I discarded the gravy remaining in the pot and placed the ribs, evenly, back in the cooker. I poured the sauce mixture back over the ribs and let them rest on the "warm" setting for about an hour. Served with cole slaw and some fresh field peas followed by a refreshing fruit pie. It was AMAZING and I will definitely be preparing this again.

 

Thank you, Ashley! I am not much of a cook, but this recipe got me some complements! I doubled the recipe and substituted actual onion and garlic for the powdered (since they were both seriously past the expiration date...4 years). The ribs seemed to cook faster than the cook times but I just put it on warm. We then poured off the liquid and strained it. My wife used 1/2 of it to make gravy for the mashed potatoes and the rest went back in the crock pot. Didn't bother with the bbq sauce since this tasted so good as is!

 

These ribs are absolutely wonderful. Ashley, I discovered your recipe about 2 months ago and I have already made this recipe 6 times. My family loved these and the last time I made them we had some, not many left over. My husband took them to work for lunch the next day and all of the correctional officers went crazy for them. Thank you for making me look like a rockstar in front of my husband's co-workers.

 
Tweaks
Thanks. Great, simple. I had no onion powder, so I chopped an onion into it halfway through. I subbed some fish sauce for half the dark soy and used 1T sesame oil and 2T scotch bonnet pepper sauce (Busha whatever; amazon) and 1T molasses. The ribs had some attached fat, so I didn't add olive oil. Deelish.

 

Excellent recipe - so simple and truly delicious. I subbed a pound of smoked sausage for half of the ribs, and we loved it!<br/>I posted a version of this on my blog today (used fresh garlic and onions in place of powdered, and replaced the oil with pastured butter): http://www.backtothebooknutrition.com/delicious-pork-ribs-crock-pot/