Bergy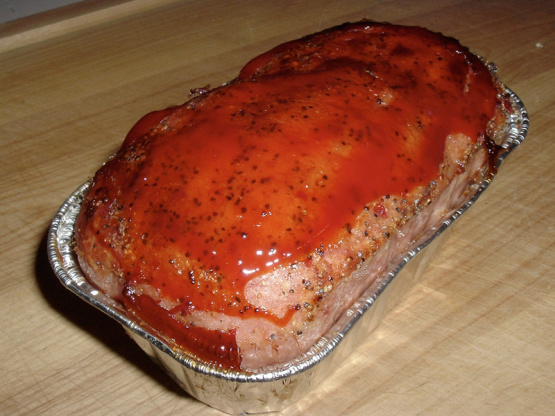 When cooking for ourselves alone, we tend not to indulge in the comfort food of family-sized meals such as meatloaf. We're intimidated with thoughts of leftovers or of breaking down recipes for a single portion. This recipe will give you one dinner and perhaps a sandwich or enough to share with a friend.

Top Review by Bergy
I made this this morning and had a couple of slices for lunch. I used ground chicken, lovely moist yet firm loaf.Just right flavour Thanks for posting this handy recipe Gingerbee. — Mar 24, 2002, 2 ADDED COMMENTS: I made this again and used very fine minced white meat turkey, I beat if well so the texture was almost smooth - It came out just the way I wanted - just like a Bavarian Meatloaf again thanks - hope you like the pictures (Oh I doubled the recipe)
Heat oven to 450 degrees.
In a small bowl beat the egg, milk, 1 Tbsp.
catsup, worcestershire, mustard, garlic powder, salt/pepper with a fork.
Mix well, beat in the bread; then add the meat.
Mix thoroughly to a pasty texture.
Use small aluminum foil baking tin (these can be found in the supermarket; they're disposal after use) and form loaf.
Spread remaining catsup over the top and bake for 25 to 30 minutes.