KJK 5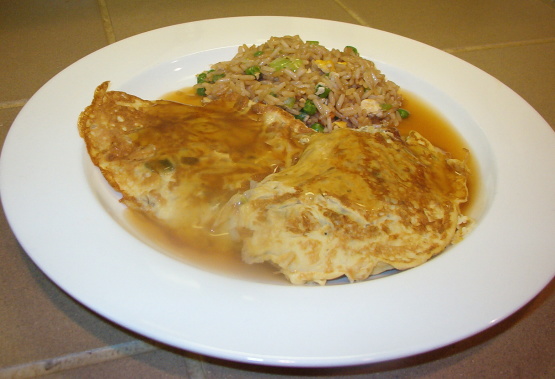 Ma used to make this for all (7) of us when I was young. She used round eggs molds or a tuna can with both ends cut off to make them perfectly round and to keep the mixture together. These are the measurements she gave me--it makes just and bit--can be easily multiplied.

This is a delicious recipe that is really a good replica of egg foo young that comes from takeout. I cooked up some mushrooms and used that instead of meat. It is pretty difficult though to get the patties to keep their shape. I got a mold, but the mixture just runs under the mold. I might try making one big one and just cutting it into portions next time. The sauce is delicious too. Thanks for sharing this great recipe.
EGG FOO YONG:.
Beat eggs, stir in salt, pepper & sherry.
Heat 1/2 to 3/4 Tbs of oil and stir-fry onion and bamboo shoots for 1.5 minutes, add meat, bean sprouts and soy sauce, stir-fry one minute more.
Remove from heat and cool.
When cool stir into egg mixture.
Heat 1 Tsp oil in pan. Slowly pour in approx 1/4 egg mixture into mold (if not using mold you may have to "help" the mixture stay in patty shape). Cook until set & lightly brown, remove mold, turn and cook until other side is browned. Add more oil as needed.
SAUCE:.
Bring all ingredients except water and corn starch to a boil. Dissolve corn starch in water, stir into mixture, bring to a boil until thickened. Serve over Egg Foo Yong.