Market Street Clam Chowder
Pismo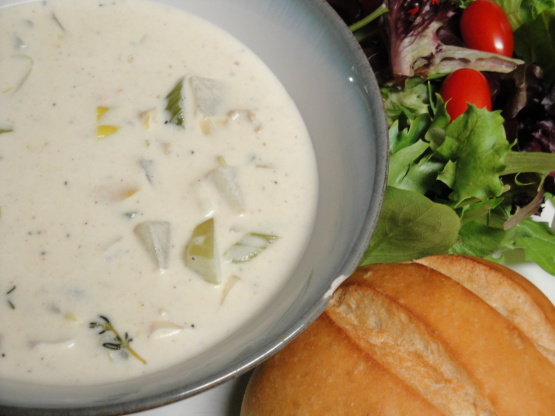 This is an excellent chowder recipe from a restaurant in Salt Lake City. It has great flavor. Very much worth the effort!!
I'm from Salt Lake City and have enjoyed both Market Street Grill in downtown SLC and Market Street Grill close to the University of Utah. We make our home now in western Idaho. I have been making this Clam Chowder almost as long as I've been married, forty years. Fresh clams are not an option but I had problems when I first made this, as the canned clams became tough and chewy. I solved the problem by waiting to stir in the clams until the half and half goes in. The clams are already cooked when they are canned. I also love a bit of bacon in my clam chowder so I pre-fry a half a pound and I can sort of take credit for a new recipe...yum! It's now tradition on New Years!
Combine melted butter and flour in oven-proof container and bake at 325 for 30 minutes In large saucepan, combine remaining ingredients except half-and-half.
Simmer until potatoes are thoroughly cooked.
Stir butter-flour mixture into chowder and stir until thick.
Mixture will be slightly less thick than cookie dough.
Remove chowder from heat.
Stir in half-and-half until blended.
Heat to serving temperature, stirring occasionally.
Serve immediately.