Margarita Pie With a Pretzel Crust!
Rita1652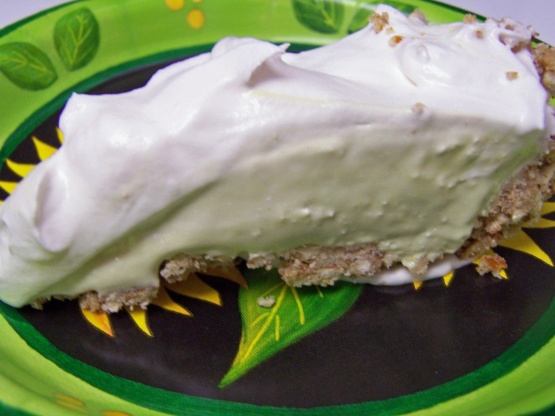 A W E S O M E! The crust makes this so decidedly different and yummy! A margarita flavored creamy filling in a crunchy pretzel pie crust! Now that is my kind of dessert! So good I hurt myself! TY to adopt a greyhound for the great idea to put these in lime shells. Great idea and great pics!

Really rich and good! Yet not heavy if you can believe something can be rich and not heavy. I wasn't clear with some of the directions but it turned out deliciously decadent anyway! I used 1 1/4 cups crushed pretzels, (not pretzels, crushed) as that filled my pie plate better. I also used 1 cup whipping cream, whipped (instead of 1 cup whipped cream), mostly because I kept tasting for texture and that is the ratio I preferred. This must be kept frozen as it melts a bit if it sits out too long. Excellent recipe for summer (no cooking required), bbq's, mexican themed menu... I will make this again and again! Oh, and it's easy, too boot!
Pie Crust:.
Melt margarine and combine with sugar and pretzel pieces. Press into buttered 9 inch pie pan.
Filling:.
Combine condensed milk, lime juice, alcohol and food coloring.
Fold in whipped cream. Cool whip can be substituted.
Pour into pie crust and freeze for 4 hours.