Mango Wedges Wrapped in Serrano Ham
gailanng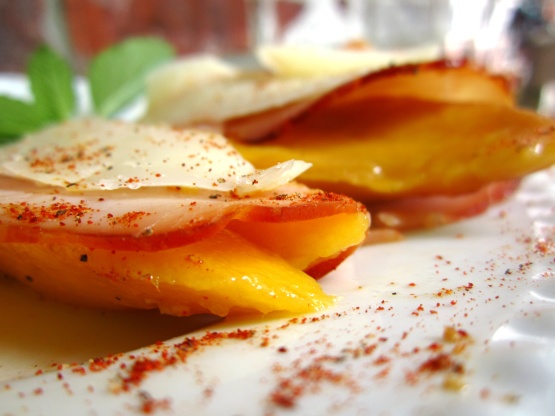 Wake up your taste buds with this easy and pretty Spanish appetizer. I found the recipe on latina.com and posted for ZWT. I love the simplicity and the lovely presentation. Tastes great too!

This is a fun little dish, with a very nice and colorful presentation. Very nice combo of sweet and salty. Thanks for sharing! ZWT8
Combine salt, paprika and pepper, mix well and sprinkle lightly on mango wedges.
Wrap a slice of the Serrano Ham (can use Prosciutto) around each wedge.
Arrange wedges on a platter or on individual plates and garnish with shavings of Manchego cheese.
Number of serving dependent on how large your mangoes are and how many wedges you choose to make.