Manaquis Bil-Za'tar -- Thyme Bread (Lebanon -- Middle East)
gailanng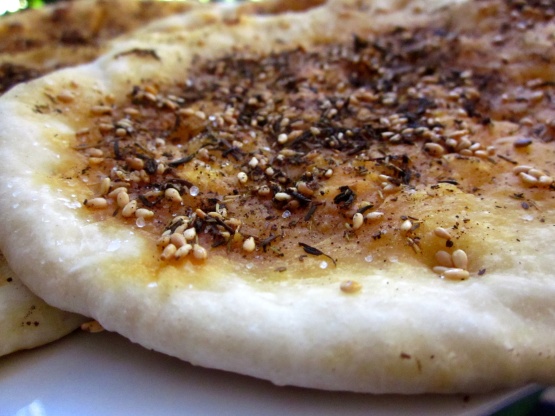 This recipe combo was found more or less intact in the 2002 cookbook, Mediterranean Street Food. Preparation time does not include time needed for dough to rise.

Top Review by WiGal
Loved the seasonings! Fairly easy but did not understand what to do with the last 1/2 cup oil so did not use it. I don't think I flattened them thin enough, so I ended up flipping them to get both sides done. Served with recipe#428754, recipe#211957, and recipe#211957. Thank you littlemafia for posting. Made for Unrulies Under the Influence while traveling through NA*ME during ZWT6.
FOR THE DOUGH: In a small container stir together yeast & 1/4 cup warm water, then set asde for 5-10 minutes.
In a large mixing bowl, whisk together flour & salt, then make a well in the center & pour in the oil.
Work in the oil with your fingertips until completely absorbed, then add the yeast water & knead with your hands for several minutes.
Gradually add another 1/4 cup warm water & knead until dough is smooth & elastic, then form into a ball, cover with a damp cloth & leave in a warm place for 1 hour, or until doubled in size.
FOR THE TOPPING: In a skillet over medium heat, combine thyme, sumac & sesame seeds, stirring continuously until the aroma rises & the mixture is slightly toasted. Salt to taste & set aside to cool slightly.
In a small bowl, mix together all the topping ingredients.
Divide the dough into 4 equal portions & roll each into a ball.
Dip the first ball of dough in flour on all sides, then shake off the excess before rolling it into a thin disk about 1/8-inch thick.
Make a few dimples across the flat dough, pressing hard with the tips of your fingers (done to stop oil in the topping from running out during cooking), then spread a quarter of the topping over the disk of dough.
Place a nonstick skillet over medium heat & cook the dough in the skillet, topping side up, for 3-5 minutes or until bottom is crisp & lightly golden.
Repeat the procedure to make the rest of the breads.
Serve hot or warm, either plain or with some yogurt or . . .