Müsli Rolled Oat Breakfast

This is my favorite müsli (uncooked style) and it only takes 30 minutes and is quite healthy. I recommend using organic produce.
Directions
Stir together oats and yogurt.
Refrigerate for thirty minutes.
Mix in the rest.
Enjoy!
Reviews
Most Helpful
A lovely delightful breakfast and soooo filling too. I used Yoplait blueberry yogurt and also for my fruit I cut up a fresh peach. Added in a bunch of home-made granola in place of the slivered almonds..(my granola has slivered almonds included) and boy oh boy...yummy!!!!
Made for Vegetarian Tag in KK's forum~
Great, healthy breakfast. This was my first attempt at making/eating musli. It was delicious and super easy to make, too! I had to omit the raisins because I didn't have any. I loved the hint of cinnamon and the bit of sweetness from the honey. Thank you.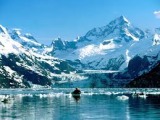 Stunningly delicious. I have been wanting to try musli for years but never got around to it. I figure there had to be a reason why so many in Germany, etc., liked it. Now I see why. It's filling; the fresh fruit has great little bursts of, well, freshness that I would never have imagined could be that good. It's always been dried fruit for me. I didn't have Balkan yogurt, so I just used light vanilla yogurt, figuring that it wouldn't need any honey due to the sweetener. Also had to substitute walnuts for the almonds. Still fantastic. ZWT6