Lip-Smacking Linguini Salad with Horseradish Dressing
Alskann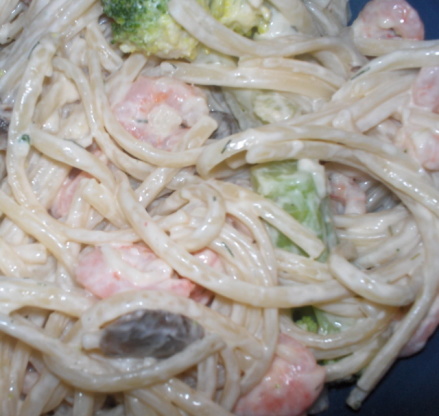 This was a nice change. The recipe was easy to follow. Flavors blended nicely. I served it warm instead of chilling it. I sauteed the mushrooms and briefly blanched the veggies before adding them to the pasta. I mixed up the dressing as directed and added it to the pasta at the last minute. I topped it all with some grated parmesan and it made a wonderful dinner.
Put on a large pot of salted water to boil; when boiling, break linguini into thirds and drop into water.
Cook until pasta is al dente; drain, rinse with cold water, then leave in colander to drain well.
Meanwhile, prepare dressing: In a mixing bowl, whisk together mayonnaise, sour cream, vinegar, mustard, horseradish, dill weed (if using) and Tabasco sauce; taste and add salt and/or pepper if you wish.
In a large serving bowl, combine drained linguini with mushrooms, cauliflower florets, shrimp and green onions; add dressing (depending on how creamy you like your salad, you may not use it all) and combine well.
Arrange hard-boiled egg quarters around edge of bowl, cover, and chill until serving.