Linda's Cheesecake-Stuffed Strawberries
PaulaG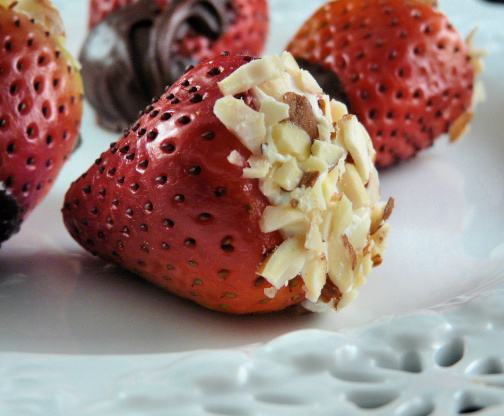 OMG.. These are like heaven in your mouth! Talk about great taste sensations... I made these for one of my cooking and recipe events that I hold monthly, and these were a HUGE hit... A must try for sure! You can use low fat cream cheese to make these lighter if you like. You can also dip the ends with any kind of finely chopped nuts, mini chocolate chips, graham cracker crumbs, sprinkles, or dip the ends in chocolate or drizzle with chocolate. You might even try adding some cocoa powder to the cream cheese and make it a chocolate filling. The sky is the limit here, just use your imagination!

These turned out so beautiful, very elegant looking and tasted wonderful. I used an 8 ounce package of cream cheese and scaled the rest of the ingredients accordingly, including double the amount of sugar as suggested by some of the other reviewers. I went to the farmer's market to get the strawberries so that I would have the freshest available. I piped the filling using a #32 tip, and sprinkled ground dark chocolate over the filling. I used a deviled egg tray as a serving platter so that the strawberries wouldn't roll around. I made these for a celebration of life gathering for a dear friend who passed away. That friend had given me a strawberry huller as a gift some years ago and it was always a little joke between us. So I wanted to do something with strawberries as a personal tribute. Her family was so touched, and I'm so glad this recipe turned out so well for us.
Place cream cheese in a bowl, and microwave for 30 seconds, so that it's soft.
Whip together the cream cheese, vanilla, and sugar.
In the center of each strawberry, using a sharp knife, make a hole in each one, as deep as you can without going out the bottom.
Spoon or pipe the filling into each hole.
Dip cheesecake end of strawberry into chopped almonds, making sure you completely cover the cheesecake filling with the nuts.
Lay strawberries in a pretty serving dish.
Sprinkle with any leftover nuts around the dish.
Chill, and serve.
Makes 24 servings.