Levi's Sesame Chicken Wings
Cynna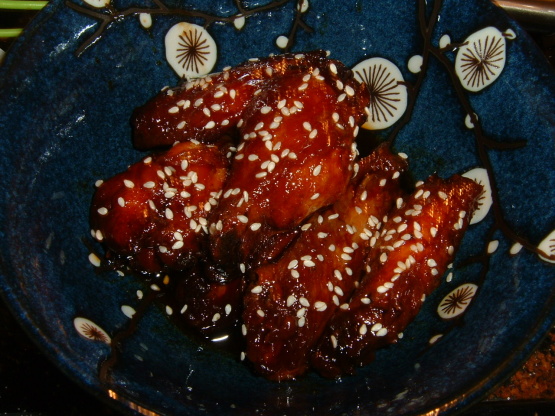 Fix-It and Forget-It Serves 6-8 as appetizers or less servings as a meal with rice. Saving this here so I can make later this week.

I made these last night and they was pretty good. The only thing is the sauce never thickened or coated the chicken well in the crockpot. I cooked on high for over 3 hours, then noticed they weren't going to get sticky. So I just poured the sauce in a saucepan and simmered a few minutes to reduce and thicken. Once I did that I poured back over the wings and they were nicely coated that way. I would recommend if your doing it by the crockpot to keep the lid half off so that the sauce can reduce and thicken. I liked the flavor of the sauce on the wings and we ate them over rice. 3 stars for taste and method.
Cut wings at the joints and discard tips.
Rinse, pat semi-dry and sprinkle with salt and pepper.
Place on broiler pan and broil 5 inches from top, 10 minutes on each side.
Place in slow cooker.
Combine remaining ingredients except sesame seeds and pour over chicken.
Cover and cook on high 2 1/2 hours or low for 5 hours.
Sprinkle sesame seeds on top just before serving.