Calee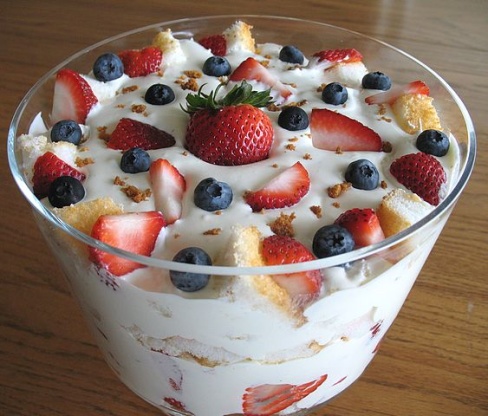 I made this for dessert on Easter and it was the perfect choice! A wonderful dessert for special occasions. I made a scratch angel food cake but I did not include that in the cooking time. The recipe comes from America's Best Recipes -- A 2003 Hometown Collection.

I have made this several times, and it is absolutely delicious. I have taken it to potlucks on a few occasions and have assembled the layers into single serving clear plastic cups. They still look gorgeous and are very easy to serve that way. I generally skip the coconut and decorate the top with berries. I love, love, love this recipe!
Combine first 3 ingredients; fold in whipped topping. Toss cake pieces with lemon juice. Layer 1/3 of cake pieces and 1/3 of whipped topping mixture in 6 quart trifle bowl. Top with sliced strawberries.
Layer half each of remaining cake, whipped topping mixture, blueberries, and raspberries. Repeat layers once. Sprinkle with coconut. Cover and chill at least 8 hours.