Ms B.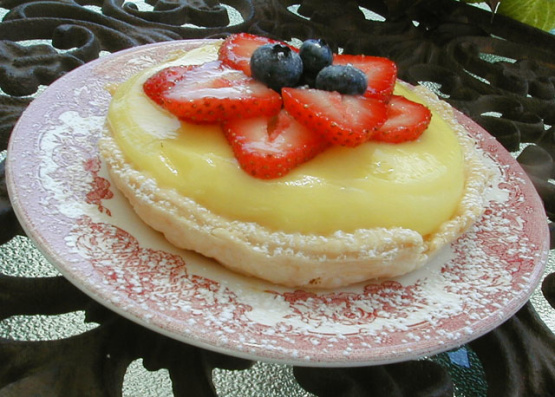 The recipe was on the box of pudding mix. It is great.

Top Review by Ms B.
This is such a simple standard in our house. My hubby loves lemon pie, and I don't always want to make the effort to make it from scratch. The flavor of this simple shortcut is great, and many don't even recognize it as coming from a box. I don't always include the meringue, as sometimes fresh berries suit our mood better as a topper. I have also used the recipe to make little tarts for special events.
Stir mix, sugar, water & egg yolks in medium saucepan.
Stir in 2 cups water.
Stirring constantly with a wire whisk, cook on medium heat until mixture comes to full boil.
Cool for 5 minutes, stirring twice.
Pour into a baked & cooled 9 inch pastry crust or crumb crust.
Meringue::.
Beat 3 egg whites in a large bowl with an electric mixer on high speed until foamy.
Gradually add 1/3 cup sugar, beating until stiff peaks form.
Spread over filling, sealing to edge of crust.
Bake at 350 degrees for 10-15 minutes, or until meringue is lightly browned.
Cool at room temperature, for at least 4 hours.