Lemon Baked Cod from Greece!
twissis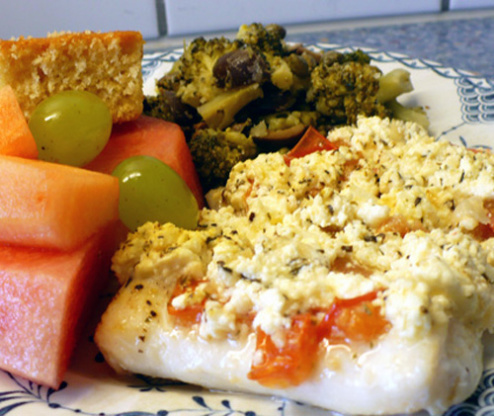 A Greek recipe adapted from Greek Recpes. Enjoy!

Love it as written and also works well with fresh haddock. Flavors meld so well.
Preheat oven to 350*F.
Grease a baking pan with some olive oil and place the fish fillets in it.
In a bowl chop and crush the tomatoes, lemon juice and add a pinch of oregano, 4 tablespoons olive oil, and 3-4 crushed cloves of garlic. Mix everything together well.
Pour some of the tomato mixture over each fillet and add some salt and pepper to taste.
Crumble some feta cheese over each fillet and bake in oven for 30 to 45 minutes.
Check the fish occasionaly to make sure it does not get overcooked and dry up.
Serve with lemon wedges. Squeeze them over the fish and enjoy!