Peter J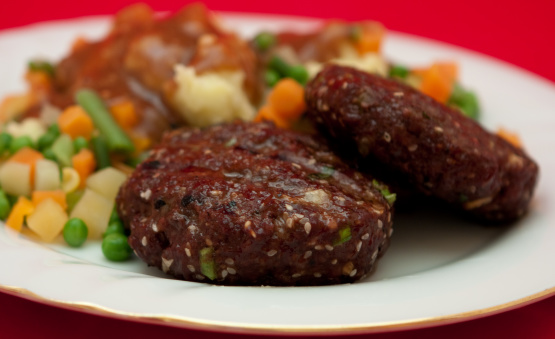 Yes, it is one TABLESPOON of minced garlic! These are absolutely wonderful. Serve on a bun with teriyaki sauce..... -------------- If freezing in advance, you might want to lessen the garlic just a little as the flavor intensifies. Unless you're like me and LOVE the taste!

Absolutely delicious and simple to make! I had read some reviews that said the mixture was a little loose, so I mixed all the ingredients together, formed the patties, and then let them sit in the fridge for at least 30 mins before I grilled them. That is an old grilling trick I've found that helps the patties stay together regardless of whats in them. I used the George Foreman grill, but instead of closing the lid and squishing the burgers, I cooked one side for 5 mins, flipped it, and cooked the other side for 5 mins with the grill still open. The burgers were even delicious 2 days later as leftovers. I would only make 1 tiny little change to the recipe- I would add more garlic (that's just a personal preference, I love garlic!). Thank you for this wonderful recipe, I will definitely be making these again.
Mix thoroughly.
Shape into 4 patties.
Grill or fry as usual.
To use in once a month cooking or stocking up:.
To Freeze: Freeze uncooked in a single layer on plastic wrap, then wrap the stack in aluminum foil.
To cook: Grill or fry from frozen until done.