Korean Beef on Fiery Cabbage
KPD123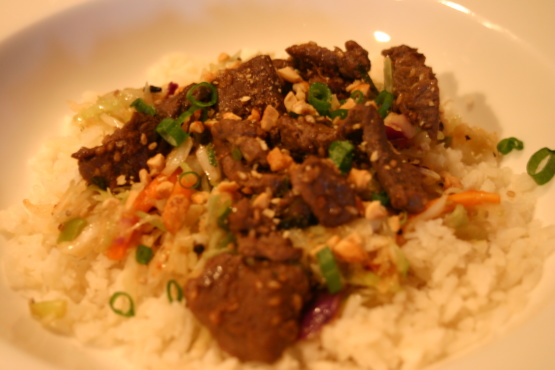 This in one of my favorite dishes to make. It's fun, flavorful, and is on the table in less than 30 minutes. This is an easy way to get DH to eat cabbage! I serve the whole dish under a bed of brown rice. I also make mine much hotter by adding serrano peppers! I did not include marinating time. I hope you enjoy!

Made this tonight, so delicious! For those wanting the cabbage to be truly Fiery, add 1 Tbs of Sriracha sauce.
Combine all marinade ingredients in a large, shallow dish or ziplock bag. Add meat and toss to combine. Refridgerate for at least 1 hour or up to six.
For the cabbage, saute the green onions, ginger and garlic in the oil in a large skillet for about 1 minute. Add the cabbage, carrots, chicken broth, vinegar, salt and pepper. Cook, stirring often for about 5 minutes.
For the meat, place meat and marinade in a large skillet and brown on all sides. This should only take 5 minutes and the marinade should be slightly reduced to a nice consistancy.
**I serve in a bowl with the rice on bottom, cabbage on top of rice, and meat on top of cabbage.