Kicks Like a Mule - Mexican Jalapeno and Cornbread Muffins!
French Tart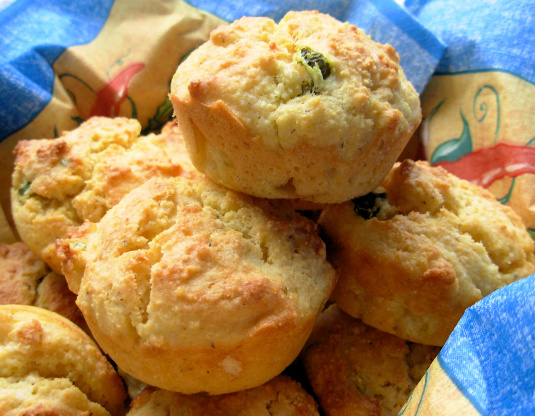 These lovely little cornmeal muffins have quite a kick to them, it's the jalapeno peppers! A very simple and easy recipe that goes so well with chili, stews, soups, chilli con carne or when served as an appetiser snack - split them in two and spread with savoury butters or serve with dips. I made these up as an experiment, and they turned out so well, that I am on my third batch already!

Loved these. I made 2 batches, the first based on the actual recipe, and for which I give 5 stars, the second batch I added 1/2 cup Monterey jack/cheddar cheese and used fresh jalapenos. After baking, I split in half and served cream cheese/pepper jelly combo with them.
Pre-heat oven to 200C/400F and grease a 12 hole muffin tin.
Mix all the dry ingredients together and then add the yoghurt or buttermilk, melted butter and the egg. Mix until all the ingredients are combined - do NOT overmix!
Add the jalapeno peppers and mix gently again.
Spoon into pre-greased muffin tin and then bake for 20 to 25 minutes or until well risen and pale golden brown.
Serve with chili, chilli con carne, stews, soups or split and spread with savoury butter or dips.