Boomette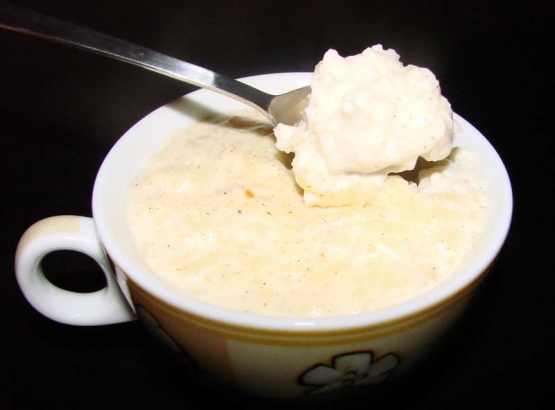 An Indian rice pudding served warm or cold and garnished with nuts. The inclusion of cardamom pods makes this global dessert distinctive. Kheer is more milky than rice puddings served in the US. This recipe is untried and submitted for 2005 'Zaar World Tour.

wow this kheer was amazing... i did make some changes to make it more pakistani/indianish: I left out the nutmeg... I added a pinch of safron along with the sugar... I left out the almonds only because i didn't have them ready for when it was time to add them... and I didn't use rose water because it's too strong. Instead I used Zewra Essence (it's called Screwpine in english... you can find at almost any Pakistani/Indian grocery store) and only one or two drops of it near the end when I was transferring the kheer from the pot to the serving dish. It has a great consistency and its taste matches :)
Boil in the water over medium heat for 5 to 6 minutes, until the rice is one quarter done. Drain in a colander.
In a saucepan, bring the milk and cardamom pods to a boil over medium heat. Add the rice and reduce heat to a low simmer. Cook for 30 to 40 minutes, until the rice is soft and the milk is very thick. Keep stifring to incorporate the starch from the rice into the milk and to prevent the rice from sticking to the bottom of the pot.
Add the sugar, almonds, ground cardamom, and nutmeg and cook for another 5 minutes, stirring constantly.
Remove from the heat. Sprinkle with the rose water.
Serve warm or chilled in dessert bowls.