JustJanS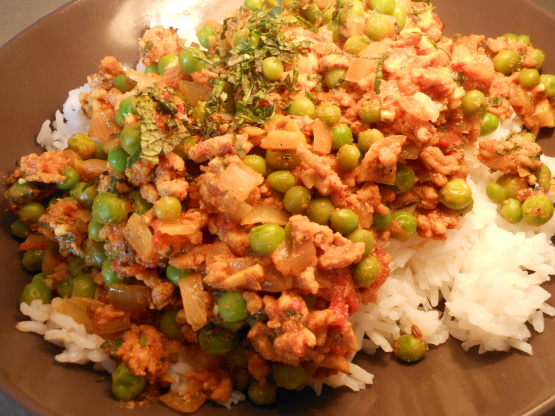 When the cold winter winds come to northern India, rustic dishes, like this one, make a popular family meal. Recipe is from The Curry Cookbook.

This is a yummy homestyle dish that really rocks in flavor. Loved it
Melt the ghee in a flameproof casserole or large skillet with a tight fitting lid. Add the cumin seeds and cook, stirring, for 30 seconds, or until they start to crackle.
Stir in the onion, garlic and ginger paste, bay leaves and curry powder and continue to stir-fry until the fat separates.
Stir in the tomatoes and cook for 1-2 minutes. Stir in the coriander, chili powder, turmeric, sugar, salt and pepper and stir around for 30 seconds.
Add the beef and cook for 5 minutes or until it is no longer pink, using a wooden spoon to break up the meat. Reduce the heat and simmer, stirring occasionally, for 10 minutes.
Add the peas and continue simmering for an additional 10-15 minutes, until the peas are thawed and hot. If there is too much liquid left in the casserole, increase the heat and let it bubble for a few minutes until it reduces. Serve with rice, if desired.