Italian Turkey Burgers (Reduced Fat)
Jubes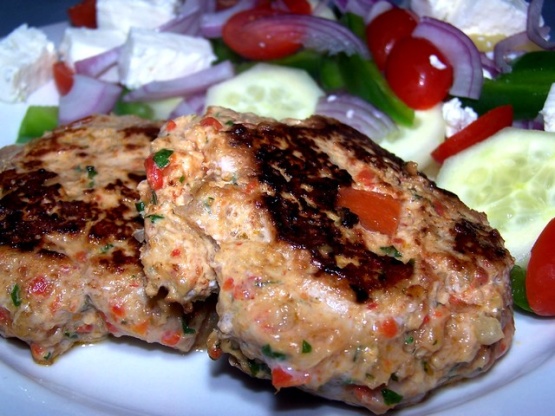 I have been playing around lately with trying to make different kinds of reduced fat burgers to go with the low fat eating plan I am on. This is my latest attempt. I used ground turkey breast so that I didn't feel that bad about having a little bit of fat from the sundried tomatoes but at least it is 'good' fats. The cooking time includes the one hour chilling time.

This has great flavors. The veggie mixture looked like it was going to make the burgers soft, as it was pretty wet. So I poured them in a tea towel and squeezed them dry before I added them. It worked great. I'm a personal chef. This is my client's favorite turkey burger.
Put the turkey in a bowl and set aside.
Roughly chop the onion and put it into a food processor or mini chopper along with the basil, red peppers and sun dried tomatoes.
Blitz the ingredients until the onions and everything else is finely chopped.
Empty the contents of the food processor into the bowl with the ground turkey.
Add the garlic powder and the egg white.
Mix with your hands until everything is well combined.
Form four equal sized burgers and place on a plate and put into the fridge for an hour to firm up.
Take the burgers out of the fridge and either pan fry in a little bit of extra virgin olive oily for about 5 minutes on each side until cooked through or do on a Foreman type grill for about 10 minutes total.
Serve on buns of simply bunless with a salad is watching the calories. If serving with bread it is fun to complete the Italian feel with ciabatta rolls.