Iranian Yogurt and Spinach Dip - Borani Esfanaaj
awalde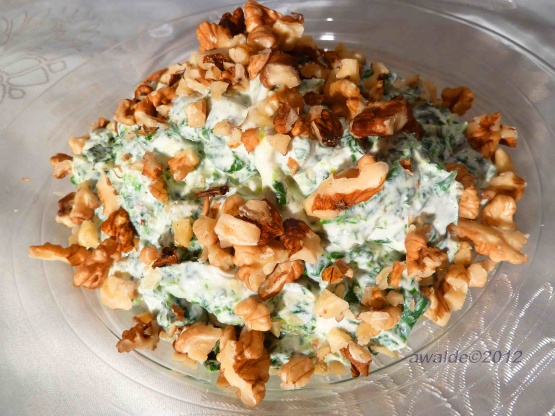 Delicious but you must like walnuts. Modified from a recipe found on http://www.food52.com by shayma.

Made this last night for us, and finished off earlier today. Just as good the second day around. The Balkan yogurt combined makes this a winner. Went well with the walnuts too. I microwaved the walnuts for 15 second to warm them up. Tagged and made for The Best of 2012.
Steam baby spinach until just wilted.
Drain well and chop fine.
Mince 1/2 medium clove garlic and saute in 1 tbs unrefined extra virgin olive oil, then add the chopped spinach and a pinch or two sea salt. Stir.
Remove from stove and allow to cool, then squeeze out excess liquid.
Toast chopped walnuts in a dry frying pan until fragrant. Be careful not to burn! Set aside to cool.
In a bowl and the yogurt, other half minced garlic, baby spinach, and dried mint and sea salt to taste, stir gently.
Transfer to the bowl you are serving it in (I use a shallow, round bowl) and sprinkle with toasted, chopped walnuts and a trail of unrefined extra virgin olive oil.
Serve with lavash (flatbread from Iran) or "some crisped-up-in-the-oven whole wheat pita bread!" (Yes we don't do that being gluten free! I use more yogurt and serve this as a salad to mix with Middle Eastern rice dishes.).
Enjoy!