Prep 10 mins
Cook 15 mins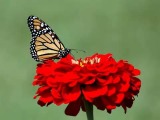 Another Sunset Cookbook recipe using traditional Indian spices in addition to hot chili oil and nonfat sour cream to temper the spicy flavors a bit.
Directions
Cut potatoes crosswise into 1/4 inch slices. Melt butter in a wide nonstick frying pan or wok over medium high heat. Add potatoes, bell pepper, onion, cumin, coriander, hot chile oil and 3 tablespoons water. Stir-fry gently until potatoes are tinged with brown and tender when pierced (about 15 minutes); do not scorch. Add water, 1 tablespoon at a time, if pan appears dry.
Remove pan from heat. Sprinkle potato mixture with chopped cilantro and mix gently. Spoon into a serving bowl, top with sour cream, and garnish with cilantro sprigs. Add salt to taste.
Reviews
Most Helpful
Perfect potatoes thanks Nancy. I may have cut my potatoes a little thick (but not a heap thicker), so found they took almost double the time to cook. During one of the 1 tablespoon of water additions, I popped a lid on my wok and they were done in a flash with no harm done. I topped them with low-fat yoghurt as I think it goes better with curry than sour cream and I couldn't resist adding in some crushed garlic (curry and garlic just go IMO)

I enjoyed the Indian spices with these potatoes. I added a chopped serrano chili, and loved the added heat it gave to the dish. I also left out the sour cream- just a personal preference. My potatoes took a lot longer to cook, but I may have sliced them too thick. [Made & Reviewed for PRMR]
These were very good. I didn't have red potatoes so I had to extend my cooking time to about 20 mins and added almost a 1/4 cup chicken stock to cook the potatoes I had on hand. I topped with yogurt instead of sour cream.