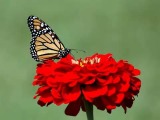 Another Sunset Cookbook recipe using traditional Indian spices in addition to hot chili oil and nonfat sour cream to temper the spicy flavors a bit.
Directions
Cut potatoes crosswise into 1/4 inch slices. Melt butter in a wide nonstick frying pan or wok over medium high heat. Add potatoes, bell pepper, onion, cumin, coriander, hot chile oil and 3 tablespoons water. Stir-fry gently until potatoes are tinged with brown and tender when pierced (about 15 minutes); do not scorch. Add water, 1 tablespoon at a time, if pan appears dry.
Remove pan from heat. Sprinkle potato mixture with chopped cilantro and mix gently. Spoon into a serving bowl, top with sour cream, and garnish with cilantro sprigs. Add salt to taste.