Nimz1466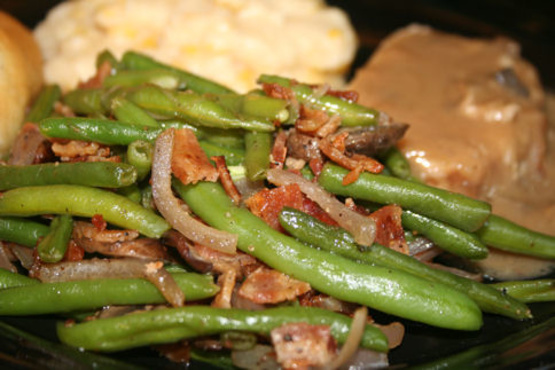 I always loved the way my mom cooked her green beans and all she did was add bacon so I then I started cooking them the way she did and started adding things to it. I am sure someone else has thought of this recipe but it really is the best green beans to me. I hope you enjoy and please post to let me know what you think.
2

(16 ounce) cans green beans (any style)
1⁄2 medium white onion (chopped)

5 -6

slices bacon (its up to you, I love a lot of bacon in mine)

4

tablespoons butter
1⁄2 cup mushroom (I get mine from a can, and you can use more or less)

1

tablespoon garlic powder
salt and pepper
Tabasco sauce (I use about 5 shacks)
Start by browning your bacon, when almost brown, throw in the mushrooms, onions and garlic powder and cook with the bacon. (It will give the mushrooms and onions a lot of flavor).
In another pan put your cans of green beans in there with the butter, salt and pepper and let the butter melt.
Then pour the bacon, mushroom, onions, and the bacon grease all in the green beans. (Note you might not want to pure all the bacon grease but enough for flavoring).
Heat for about 10 minutes on medium heat and the flavor is great.