Hungarian Noodle Side Dish Recipe
Nif_H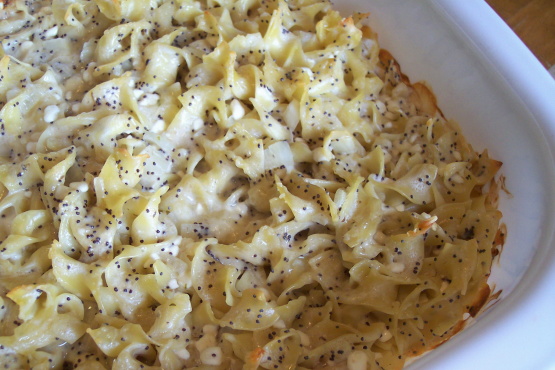 A recipe I found in my Homemaker Schools magazine from TOH. Posting for me to try and for ZWT. Sounds like something my whole family would enjoy and could also be made into a meal with some cooked or grilled chicken added to the noodles.

I'm not going to rate because the recipe itself might be very good. But I just want to note that this recipe isn't of Hungarian origin. A big hint is the mixing in of whole poppy seeds. We use ground poppy seeds, and we use them mostly as a sweet filling in pastries. Also the Worchestershire sauce and Parmesan cheese would be odd ingredients for a Hungarian to be using. Looks like someone thought this would be "Hungarian" because of the poppy seeds and cottage cheese, which are definitely traditional. <br/><br/><br/>We do have several interesting noodle dishes. Three of them use cottage cheese and noodles. A savory one uses eggs to set cottage cheese and egg noodles into a kind of quiche/casserole (metelt). Another savory (turoscsusza) is flavored with bacon. A sweet one that is a simple dessert made of wide egg noodles, cottage cheese, sour cream, sugar and cinnamon which dates back to the 1600s. People who haven't tried the original recipes are always adding more ingredients to Hungarian recipes because they think "oh, that can't be good, it's too simple and probably bland." But Hungarian food is about technique, not ingredients, just like French food.
In a large bowl, dissolve bouillon in water. Add the next six ingredients; mix well. Stir in cottage cheese, sour cream and noodles and mix well.
Pour into a greased 2-1/2-qt. baking dish. Sprinkle with the Parmesan cheese and paprika. Cover and bake at 350° for 45 minutes or until heated through. Yield: 8-10 servings.
Note: Casserole may be covered and refrigerated overnight. Allow to stand at room temperature for 30 minutes before baking.