Hudson's Cheddar Cheese Soup
chia2160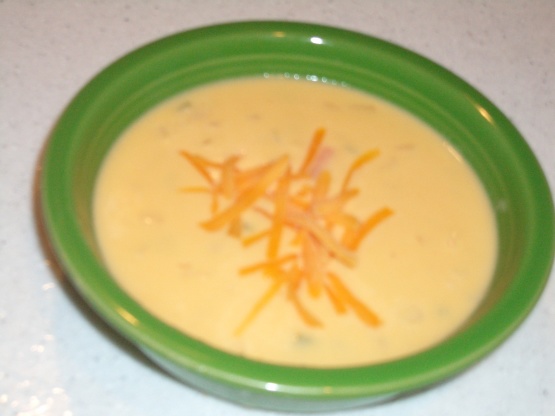 Hudson's was a department store in Michigan which is now owned by Marshall Fields. Hudson's had darling little cafes inside their stores, and one of their specialties was this amazing cheddar cheese soup. It's the best I've ever had, and I think you will agree! Angostura bitters is a surprise secret ingredient that really adds to the flavor. Be sure to use good quality, sharp aged (12 months or more) cheddar. It is absolutely KEY to the success of this recipe.

This was SO good! I followed recipe,and it turned out very well. Made it a second time a couple of weeks later and left out the Angostura bitters...just our preference. I also added crisp cumbled bacon, and chopped green onion. Very rich and flavorful soup. I have been looking for a cheddar soup that rivals my memories, and this is it!
Heat the butter in a stockpot over medium high heat until foamy.
Add the onion, celery, and carrot.
Saute until the onion is softened and translucent.
Sprinkle the flour, cornstarch, paprika & baking soda over the vegetables.
Cook, stirring constantly, for 2 minutes.
Add the milk & chicken stock.
Whisk until smooth.
Heat, stirring often to prevent milk from burning on bottom of pot.
When the carrot is soft, remove the pot from the heat.
(At this point, if you prefer a smooth soup, you may blend all with an immersion blender).
Add the cheddar cheese, stirring to thoroughly combine.
The heat of the soup will melt the cheese.
Stir until the cheese is fully integrated and no distinct bits remain.
Add salt and pepper to taste.
Ladle into bowls.
Top each bowl with a dash of Bitters and a sprinkle of parsley.
Serve crusty Sourdough bread alongside.