Huckleberry ( or Blueberry) Coffee Cake
Asha1126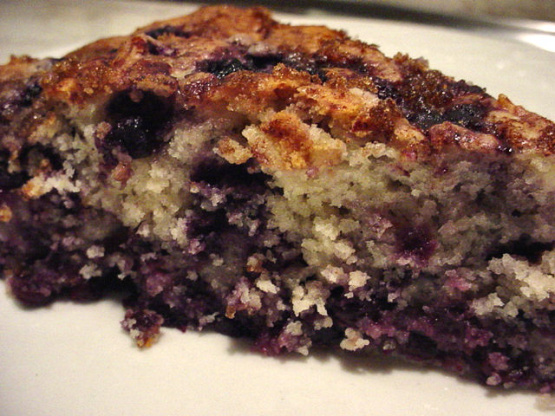 Cooking Light published this in their book, Five Star Recipes--The Best of 10 Years, and their staff voted this as one of their top five recipes from the first 10 years. It is very, very good, either for breakfast, brunch, or as dessert, warm out of the oven with a scoop of vanilla ice cream.

I used to make this recipe a lot. It's delicious and always got rave reviews. Then I lost the recipe, and I've been looking for it. I'm so glad to have found it again! I love it jam packed with blueberries.
Beat margarine and cream cheese at medium speed of an electric mixer until creamy; gradually 1 cup sugar, beating well. Add egg, and beat well.
Combine flour, baking powder, and salt; stir into margarine mixture. Stir in vanilla, then fold in berries.
Pour batter into a 9-inch round cake pan coated with cooking spray (I also lined bottom with parchment).
Combine 2 tablespoons sugar and cinnamon; sprinkle over batter.
Bake at 350F for 1 hour; cool on a wire rack.