Herb Dumplings With Pork Chops
Nimz1466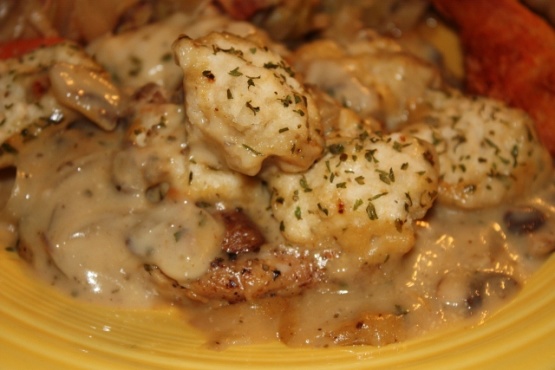 Trying out this recipe was the first time I had ever made dumplings. I liked it, and think it is a cool cooking technique.

Excellent flavor combination in the dumplings and I agree the cooking method shocked me that it worked so well. Some of the best dumplings I've made to date. I gave it a 5 star rating for the flavor which I think came from the addition of the sage, but I don't see how this would work well if you only used the liquid stated. I doubled the liquid and barely had enought to cook the dumplings. Saying that, my pork chops were so tender and moist. We just loved this. A recipe I'll make again. Thanks berry. Made for PAC Fall 2012
In a large skillet, heat oil.
Brown pork chops on both sides.
Slice onion, and place on top of pork chops.
Mix together the soup, mushrooms, water, and sage. Pour over pork chops.
Bring to a boil and reduce heat.
Mix together flour, baking powder, salt, celrey seed, and sage. Cut in butter.
Stir in milk just until dry ingredients are moistened.
Drop by spoonfuls into soup mixture.
Sprinkle with parsley.
Simmer for 15 minutes.
Cover and simmer until a toothpick inserted in a dumpling comes out clean, about an additional 15 minutes.