Bergy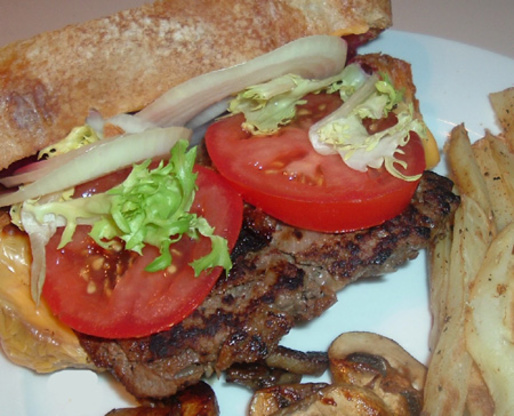 This is based on a recipe Cooking for 1, thought I would post as there has been queries again for recipes for 1 person. Please play around with this recipe as you could add finely grated veggies to the patty, use different sauces etc.

Since I cook for one or two, this recipe was perfect for me and my mother. I made one seving for the two of use to split with ground very lean turkey meat. I used sliced velveta cheese since thats what I had and opted out on the beets. This makes the perfect sized and falvored burger for one!
To make patty, place beef, breadcrumbs, onion, herbs, egg yolk, tomato and soy sauces and black pepper in bowl and mix well to combine.
Using wet hands shape mixture into a patty.
Heat oil in a nonstick pan over medium high heat, add patty and cook for 4-5 minutes each side to your liking.
To assemble hamburger sprinkle bottom half of bun with cheese, then top with cooked patty, tomato sauce, beetroot, tomato, lettuce and top half of bun.