GaylaJ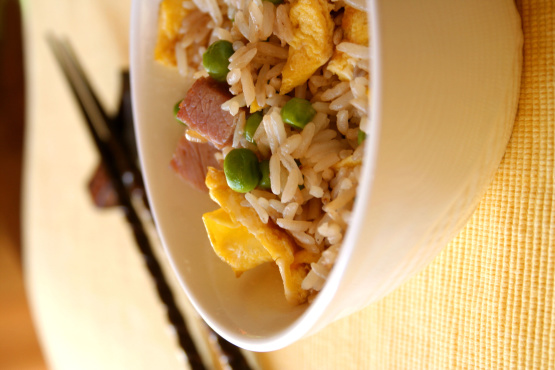 Fried rice with a variation. We like this on Sunday morning as a brunch item.

Delicious! This is a great recipe...easy to modify to fit your personal taste as well as for using up leftovers. I used cold brown rice (cooked the day before in rice cooker with a bit of olive oil), and added in some leftover mushrooms [URL=http://www.recipezaar.com/36550]Sauteed Mushrooms[/URL] . To the mix, I also added frozen carrots (with the peas). I've made plenty of fried rice dishes over the years, but never with brown rice--let's just say I'm a convert now...it was delicious! Also really love the nutty flavor the oriental seasoning sesame oil imparts (I used Imperial Dragon brand). Thanks for the awesome recipe. (Even my toddler requested seconds!!)
In med saucean bring butter and water to a boil over high heat.
Stir in rice.
Reduce heat to med low and partially cover the pan, simmering until most of the liquid is absorbed, about 5 minutes.
Stir the rice with a fork.
Reduce heat to low and cover and continue cooking until tender, about 15 minutes.
In a large skillet heat 1 TBS oil over med high, coating the pan.
In a small bowl beat eggs.
Add the eggs to the skillet and fry until set, turning once.
Transfer to plate and cut into 1/2 inch by 2 inch strips, then set aside.
In the same skillet heat another TBS oil.
Add ham and cook until lightly browned.
Transfer ham to eggs and set aside.
In same skillet, add final TBS oil.
Add onion and stir fry for 1 minute.
Stir in peas, cover and cook til tender 2-3 minutes.
Gently stir in the rice, eggs, ham, soy sauce and sesame oil.
Cook til heated through.
Serve immediately.